Dharamshala: A group of 20 members led by Mr.Wilfried Pfeffer,the Director of Tibet Kailash Haus based in Germany along with an executive member of  NDPT and the advisor of Tsechok ling Monastery visited the Tibetan parliament-in-Exile on 25 October.
The group visited the Parliament as a part of their 2017 annual Dharamsala visitation program to associate themselves with the unique culture of Tibet and the Tibet cause.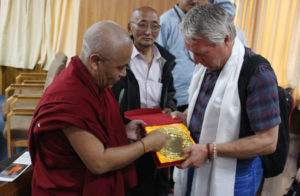 Deputy Speaker Ven. Acharya Yeshi Phuntsok of Tibetan Parliament in Exile welcomed them in the  assembly hall of Tibetan Parliament. At the meeting, Deputy Speaker elucidated them on the present situation prevailing in both inside and outside Tibet, the history of Tibet and CTA's dedication to resume the dialogue with China to resolve the issue of Tibet. He also explained them about the constituency of parliament and proceedings of parliamentary session. He further introduced them to the different Tibet support groups around the world as well as their conventions and meetings.
He urged them to support the cause of Tibet by establishing Tibet support groups when they return to their places and to strengthen the Parliament support group for Tibet in their country based on the facts and truth.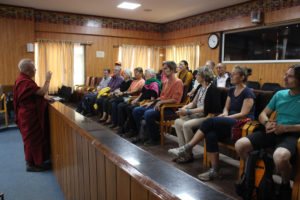 At last, Deputy Speaker on behalf of Tibetan Parliament presented a souvenir to Mr.Wilfried Pfeffer for his unwavering support to the cause of Tibet, in particular, facilitating scholarships to Tibetan students and Funding various Tibetan NGOs.