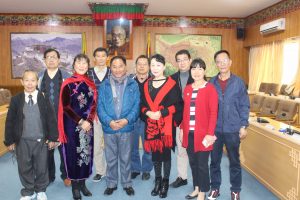 Speaker Pema Jungney with the Chinese guests

Dharamsala: Nine Chinese delegates visited Tibetan Parliament-in-Exile on 12 March 2019 at 2:30 PM. Speaker Pema Jungney received them at the Parliament hall and gave introduction of Tibetan Parliament-in-Exile.
He spoke about the composition, function, sittings of the Parliament and Tibetan Parliament-in-Exile being a unicameral or party less system and its benefits. He also spoke about adoption and amendments of the Charter of the Tibetans-in-Exile, devolvement of political authority by His Holiness the Dalai Lama and answered questions asked by the delegates.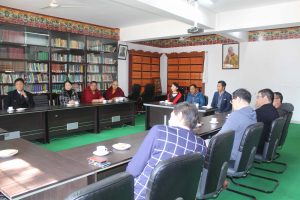 Chinese guests with the standing committee members at the conference hall
Then the delegates met with the member of standing committee, Ven. Khenpo Sonam Tenphel, Mrs. Juchen Konchok Choedon, Ven, Atuk Tsetan and Mr. Dhondup Tashi at the conference hall. Speaker introduced the standing committee members to the Chinese delegates. The Chinese delegates introduced themselves and at the same time expressed their support and solidarity to the Tibetans.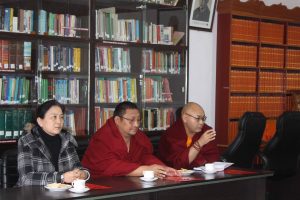 Ven. Khenpo Sonam Tenphel, Mrs. Juchen Konchok Choedon, Ven, Atuk Tsetan during the question and answer session
After that a question and answer session was held for about 30 minutes, where the Chinese delegates asked questions to the Standing committee members and standing committee members also asked questions to Chinese delegates to clarify each other's doubts.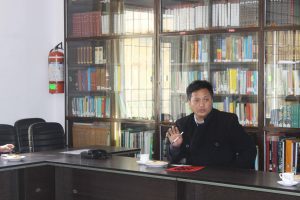 Mr. Dhondup Tashi asking question to the Chinese guests
Finally, one of the Chinese delegates gave a poem written by him in Chinese calligraphy about the 60th Tibetan National Uprising day to the Tibetan Parliamentarians.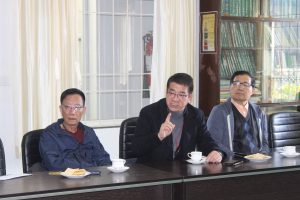 Chinese guests at the conference hall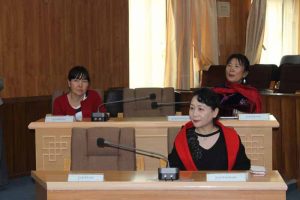 Chinese guests at the Parliament hall