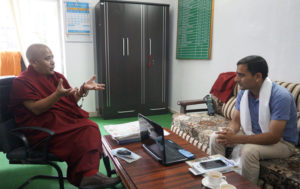 Dharamsala : Deputy Speaker Ven. Acharya Yeshi Phuntsok received Himachali folk singer and an advocate of culture preservation, Mr. Sunil Rana and Mr. Prem Sagar, a supporter of Tibetan cause, in the Tibetan Parliament Secretariat in the evening at 4:30 pm on June 2, 2018.
During the meeting, they discussed on the importance and various ways of preserving and promoting one's culture.
While briefing them on the Tibetan struggle movement, Deputy Speaker also expressed his hope to see his songs on issues of Tibet in his language, so that greater awareness could be created at the local level. The singer also expressed his pleasure on being in the Tibetan Parliament and assured a composition of paean to pay tribute to the accomplishments of His Holiness the Dalai Lama.
Thereafter, Deputy Speaker took them to Tibetan Parliamentary hall, where he elucidated them on the compositions and sessions of Tibetan Parliament-in-Exile.
………………..
Mr. Sunil Rana, a Himachali folk singer, is a household name. A regular singer at Akashwani Shimla and Dharamsala from 1999, he has about a dozen albums to his credit and a regular performer in all festivals and programmes in North India. He has also put in efforts to popularize Himachal folk song at international level. He was awarded 'the Folk Singer of the Year' in  the Excellence Award 2016 category by Divya Himachal.
An advocate for culture preservation and promotion, his main motto is to uplift the Gaddi culture in Himachal Pradesh.