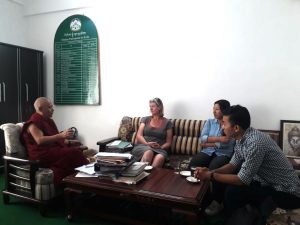 Deputy Speaker along with Alison, Lobsang Yangtso and Jigdal

Dharamsala: Executive Director Alison from International Tibet Network along with two staff visited Tibetan Parliament-in-Exile today.
Deputy Speaker Acharya Yeshi Phuntsok received them at his office at 10:15 am and briefed about the process of organizing 7th World Parliamentarians' Convention on Tibet in Riga, Latvia from 7 May to 10 May 2019, its objective to garner suggestions and ideas from the Members of Parliament to mobilize Tibet's issue in their respective governments and adoption of Riga Declaration and Action Plan.
Alison expressed her apology for not being able to attend the 7th World Parliamentarians' Convention on Tibet (WPCT) due to some reasons. She then inquired if International Tibet Network or Tibet support groups can contribute regarding the 7th WPCT, to which Deputy speaker urged the International Tibet Network to implement the Riga Action Plan by approaching Members of Parliament of their governments and provided them required documents.
Finally Deputy Speaker answered questions asked by Alison and presented a traditional scarf as a token of gratitude tp her.