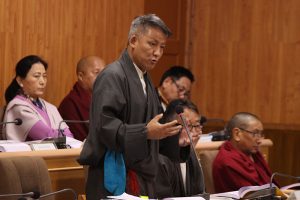 Kalon Mr. Karma Yeshi, Finance Minister
Dharamsala: Today's  Session  commenced with debate and approval on the 2019-2020 Recurring Budget (Gyundron) and Special Recurring Budget (Migsel) of Audit General and its branch at south, subsequently 2019-2020 Recurring Budgets (Gyundron) of Audit General's other branches in Nepal and Dekyiling were also sanctioned. The Session was chaired by Speaker Pema Jungney.
The Recurring budget (Gyundron) and Special Recurring budget (Migsel) of the Department of Finance for the fiscal year 2019-2020 were also approved unanimously.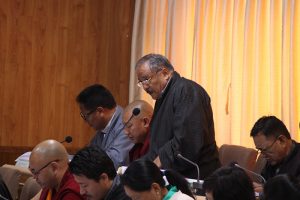 Parliamentarian Mr. Migyur Dorjee, member of Budget Estimate Committee
The session continued with debate and approval on 2019-2020 proposed budgets of department of Finance's Tibetan Administration's Welfare Society (TAWS), His Holiness the Dalai Lama's Charitable trust and Social and Resource Development Fund (SARD).Debate on the proposed budget of Gang-Jong Development Finance Pvt. Ltd (GDP) is open for the next sitting as no decision has been taken.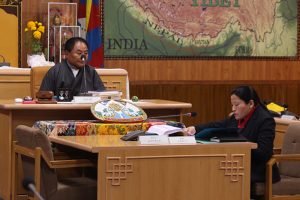 Joint Secretary Ms. Tsetan Kelsang reading out the leave of the absence
Following the final list of business for the day, Joint Secretary of Tibetan Parliamentary Secretariat Ms. Tsetan Kelsang read out the leave of absence of the Members of Parliament and the list of business for the next week's session.
The house adjourned at 12:30 pm until 9:30 am of the next Monday.