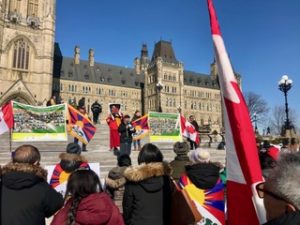 Parliamentarian Tsewang Rigzin addressing 60th Tibetan National Uprising
Tibetan Communities of Ottawa, Toronto, Calgary, Montreal and Vancouver marked the 60th Anniversary of Tibetan National Uprising day on 1 March 2019, due to the ongoing Canadian Parliamentary session and occurrence of Sunday on Tibetan National Uprising Day(10 March).
Parliamentarian Tsewang Rigzin addressed the 60th Tibetan National Uprising as a chief guest. He gave a brief introduction of the 1st Tibetan National Uprising on 10 March 1959, remembered the great sacrifices of Tibetans inside Tibet, showed solidarity to the Tibetans inside Tibet from the Tibetans residing in free countries and sent a clear message to Chinese government that Tibetans won't quit until the issue of Tibet is solved.
He also briefed the current critical situation inside Tibet and advised Tibetans to take responsibility for the cause of Tibet by quoting a statement from Martin Luther King Jr. " freedom is never voluntarily handed down by the oppressor, it has to be demanded by the oppressed". He also recalled His Holiness the 14th Dalai Lama's advice from Tibetan New Year (Losar) regarding courage, sincerity and power of unity of Tibetans inside and outside Tibet and urged Tibetans to follow and implement the advice.
He also urged world leaders to support Tibet by pressurizing China to resolve Tibet issue immediately and China to accept the policy of Central Tibetan Administration and resume dialogue between China and representative of His Holiness the Dalai Lama.
At 11 AM,  Speeches from Canadian Parliamentarians were read and speeches from organizing committee were delivered at the ground in front of Canadian Parliament building. A peaceful procession was held and protested in front of Chinese embassy for more than 2 hours. It was attended by more than 100 people from Toronto, Ottawa, and Montreal etc.
After that, he met the High Commissioner of India to Canada, Mr. Vikas Swarup and thanked Indian people and government. He talked about Tibet issue and requested the High commissioner to grant Indian visa to Tibetans residing in Canada.
In the evening, he spoke and answered questions about critical situation inside Tibet and Tibetan's responsibilities at a gathering of Tibetans and Tibet supporters.
On 2 March, he visited Tibetans residing in Montreal, organized by Tibetan community and spoke about critical situation inside Tibet, reminded to fulfill hope and aspiration of Tibetans living inside Tibet, to raise top Tibetan children and importance of paying voluntary contribution(chatrel) to CTA. It concluded with question and answer session.
.