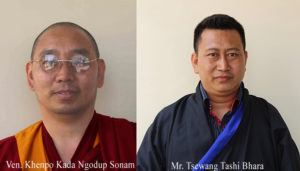 Dharamsala: As per the designated schedule of Tibetan settlements official visitation/assessment by the 16th Tibetan Parliament in Exile, parliamentarians Ven. Khenpo Kada Ngodup Sonam and Mr. Tsewang Tashi Bhara are scheduled to officially visit the Tibetan settlements in Sonada, Mirik, Kurseong, Sukhiapkhri, Ghum, Lamahatte, Odlabari and Darjeeling in West Bengal from  Oct 8 to 19.
Parliamentarian Ven. Khenpo Kada Ngodup Sonam will be leaving for Delhi from Dharamsala on Oct 8. He will depart for Siliguri from Delhi on Oct 10 while Parliamentarian Mr. Tsewang Tashi Bhara will set out from Gangtok to the same destination on the same date. Thereafter, they shall leave for Darjeeling together.
From Oct 11 to 15, they shall commence with their program at aforementioned locations in West Bengal.
They are scheduled to return to their respective places on Oct 19.