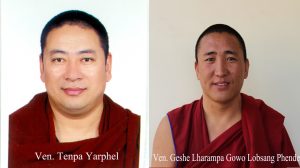 Dharamsala : As per the Tibetan settlement visitation/assessment program by the 16th Tibetan Parliament-in-Exile, Parliamentarians Ven. Tenphe Yarphel and Ven. Geshe Lharampa Gowo Lobsang Phende are scheduled to visit Tibetan settlements in Gangtok and Ravangla in Sikkim as well as Kalimpong in West Bengal from August 19 to September 15.
The two parliamentarians will leave for Delhi from Dharamsala in the evening of August 19 and from there, they will leave for Bagdora on August 21.
From August 22 to 25, they will commence with their program at Ravangla and thereafter, from August 26 till September 14, they will continue with their program in the other aforementioned Tibetan settlements.
They are scheduled to return to Delhi via Bagdora on September 15.