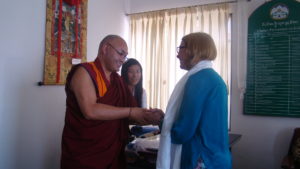 DHARAMSALA: Nancy Mcfarlane, Mayor of Raleigh, North Carolina, and Dr. Jon Kolkin were welcomed by the honorable Speaker Khenpo Sonam Tenphel of the Tibetan Parliament-in-Exile at Tibetan parliament Secretariat on 8th May.
They spoke for half an hour during which they discussed the situations in Tibet. The speaker explained them about the critical situation inside Tibet under the repressive policies of the Chinese government.
Finally, he thanked them for their consistent support for the cause of  Tibet and the Tibetan people.
After that, they visited Parliament.