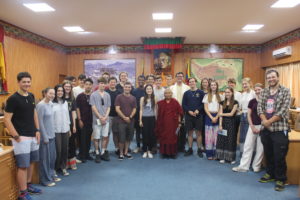 DHARAMSHALA: Deputy Speaker Acharya Yeshi Phuntsok of Tibetan Parliament-in-Exile met with a group of 23 students and 2 escorts from Rugby School, England at Tibetan Parliament-in-Exile today on 7th July.
At the meeting in the Tibetan Parliament Hall, Deputy Speaker first introduced about the Tibetan parliament and briefed them about the situation prevailing inside Tibet and in exile. He also introduced them to the different Tibet support groups existed around the world. He then urged them to support the cause of Tibet by knowing the real situation and historical facts of Tibet once they return back to their country.
Rugby School is a school that has a connection with the Tibetans from the time of His Holiness the 13th Dalai Lama. Last year they invited two Tibetan students from India to visit their school to commemorate the 100th year of their association with the Tibetans.