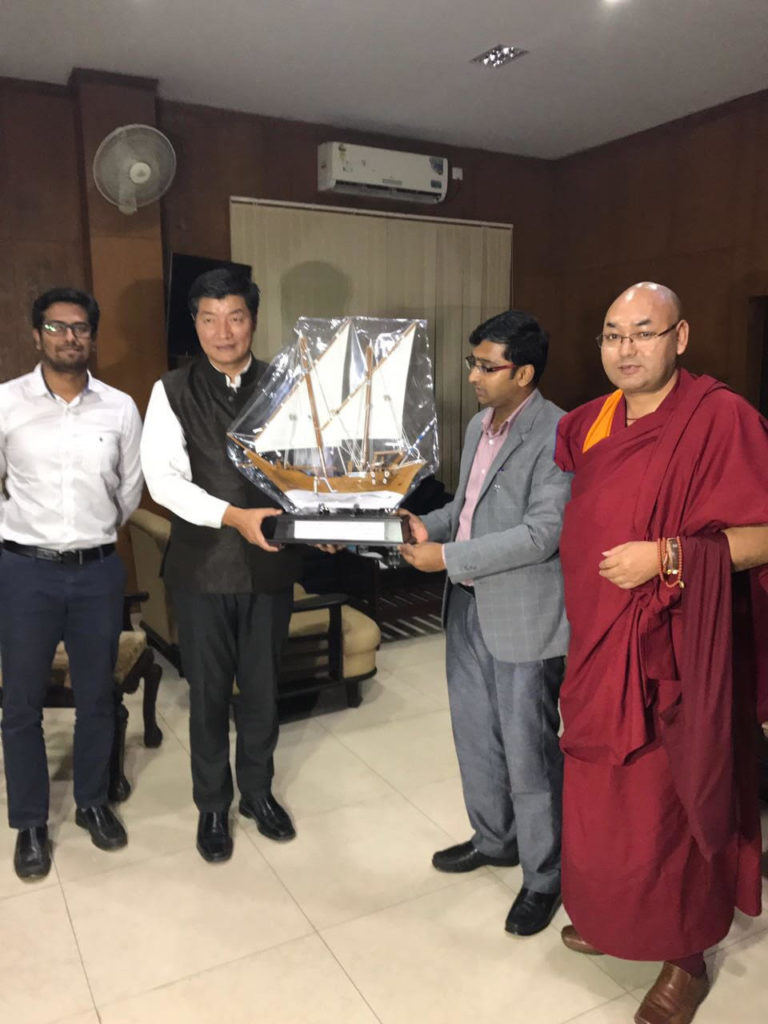 Source : tibet.net
KARWAR, Karnataka: Sikyong Dr Lobsang Sangay along with Speaker Khenpo Sonam Tenphel of the Tibetan Parliament, met Mr S S Nukul, District Commissioner of Karwar and CEO Mr Chandrasekhar Naik at the office of DC yesterday 18 December, on their way to Mundgod Tibetan Settlement.
Sikyong and Speaker were accompanied by Mr Choephel Thubten, CHief Representative of Southern Tibetan Settlements and Mr Lhakpa Tsering, settlement officer of Dekyilarsoe Tibetan settlement.
The DC warmly welcomed the Tibetan delegation led by Sikyong and the Speaker at his office followed by 30-minute interaction. The DC , CEO and the chief representative of Tibetan settlements, apprised the Sikyong and Speaker on the latest developments and process of land lease agreement as per Tibetan Rehabilitation Policy Act 2014.
The agreement document is to be signed between Government of India and the Central Tibetan Relief Committee on 21 December 2016. This agreement would be the first legalised document regarding land lease to Central Tibetan Relief Committee (CTRC) by Government of India as per law of the land. The settlement officer will represent CTRC and DC will represent Govt of India to sign the agreement.
The DC also shared his idea and urged Sikyong and the Speaker to hold international events at Mundgod in future so that the place would develop into an important tourist destination. The meeting concluded with a presentation of Memento by Deputy Commissioner Mr Nukul to Honorable Sikyong and Speaker.
Following the meeting, Sikyong was briefly interviewed about the visit and the meeting by news channels namely TV 9, Sanjivani TV, and Prajavani, Kannada Prabha, Vijaya Karnataka, Vijayavana, Samyukta Karnataka and a series of local evening papers including Sanjayvani, E- Sanjay and other 8-9 local medias.