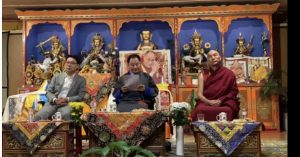 Speaker Pema Jungney addressing the 25th anniversary of Casa Del Tibet, Spain with Representative Tashi Phuntsok (Bureau du Tibet, Brussels), and Parliamentarian Thupten Wangchen (Director of Casa Del Tibet Spain) at the stage.
Tashi Delek, I am truly honoured and privileged to grace the auspicious occasion of the 25th Founding Anniversary of Casa Del Tibet Spain. On behalf of the 16th Tibetan Parliament-in-Exile, I sincerely express my congratulations to Director Honourable Ven. Thubten Wangchen and the members of Casa Del Tibet for completing the wonderful journey of 25 years with great success.
Casa Del Tibet began its foundation in 1994 with the blessing from His Holiness the 14th Dalai Lama and from there on, it had played a pivotal role in preserving and spreading the rich culture of Tibetan Buddhism, Tibetan Medicine, and Tibetan Cultural Heritage. Moreover, it has carried out numerous social and humanitarian activities such as education projects, health projects, looking after destitute people in exile, as well as towards sustainability of the environment in Tibet and raising awareness on Tibetan art, language and the issue of Tibet. It has truly supported Tibetan people and CTA by sponsoring many projects to CTA, Tibetan non-governmental organisations, and needy individuals, under the direction of Director of Casa Del Tibet and Member of the 16th Tibetan Parliament-in-Exile, Ven. Thubten Wangchen. Casa Del Tibet has been a true bridge between Tibetans and the West on the above mentioned notable activities. We are indeed thankful for the outstanding work of all of you and those who voluntarily contributed to this organization.
Tibetan democracy in real terms has been the vision and aspiration of His Holiness the Great 14th Dalai Lama before Tibet was illegally invaded by the People's Republic of China (PRC) in 1959. Prior to the invasion, Tibetans experienced no democratic governance since important decisions were taken by Tsogdu (National Assembly), Kalons (Cabinet Ministers), abbots of three great monasteries in Lhasa and societal representatives. No elections were held. But His Holiness witnessed the changing scenarios of the modern world where the people should play more effective role in electing their representatives to carry forward the social and economic polices of the nation. As such, His Holiness had in fact, at a very young age of 16, introduced administrative and land reforms in Tibet as a step towards the democratization of Tibetan polity and creation of equality in Tibetan society. But this great vision of His Holiness was unable to materialize due to the invasion of PRC, though very soon after coming into exile, this great step got implemented with the establishment of Tibetan Government-in-Exile (Now known as Central Tibetan Administration) in 1959-1960, first in Mussoorie and then later shifted to Dharamsala. Majority of Tibetan people are deeply religious, are nomads and farmers and thus didn't have idea about the democratic system. Thus, His Holiness outlined a detailed programme of democratizing Tibetan governance set up in exile. He designed this set up by advising Tibetans to elect representatives each from three traditional Tibetan provinces (U-Tsang, Dotoe and Domay) and one each from four major schools of Tibetan Buddhism (Nyingma, Kagyue, Sakya and Gelug). In this way, on 2nd September 1960, first ever universal democratic process was followed with the election of 13 Representatives. They were termed as Deputies and was designated as 'Commission of Tibetan People's Deputies' (Now known as Tibetan Parliament-in-Exile). Henceforth, 2nd September is observed as the Democracy Day by Tibetans and every year it is celebrated with great pride. Unlike other countries where people, individuals, organisations have to fight, kill, sacrifice, protest for democracy, Tibetans are fortunate enough to have a Leader like His Holiness the 14th Dalai Lama, who bestowed or gifted democracy to us and from time to time led Tibetans to this reform. In 1963, a draft Constitution for future Tibet was promulgated and then later in 1991, a Charter of Tibetans in exile was adopted by Tibetan Parliament and enacted by His Holiness and thus came into force. The Charter offers Members of Tibetan Parliament with more powers to elect Cabinet Ministers after the nomination of candidates by His Holiness the Dalai Lama. To further the democratic process, His Holiness suggested expanding the members of Tibetan Parliament from 12 to 46. In 1992, Tibetan Supreme Justice Commission was formed and thus three organs of democracy were established. The pillars are Tibetan Supreme Justice Commission, Tibetan Parliament-in-Exile and The Kashag (composition of Cabinet Ministers). Tibetan Charter was yet again revised in 2001 where it allows for the direct election of Kalon Tripa (Chief of Cabinet Ministers) by Tibetan public and thereby, His Holiness declared himself to be in semi-retirement from both the political and administrative responsibilities for Tibet. Kalon Tripa is the highest executive authority and is equivalent to Prime Minister. Then in 2011, a great landmark in the history of Tibetan democratic polity took place where His Holiness devolved his entire political responsibilities to an elected Tibetan leadership so that Tibetans can carry forward the democratic process with more confidence, even after His demise, which every Tibetan wishes never come true. Since then Sikyong (Political Leader) took and continues to take the political responsibilities of the Tibetan issue along with other elected members of the Tibetan Parliament. Today, Tibetan in exile is operating smoothly with the set up of three more autonomous bodies- Election Commission, Public Service Commission and Auditor General in Dharamsala. We have 45 Members of Tibetan Parliament comprising of 10 representatives each from three provincial provinces of Tibet (Of these 2 seats are reserved for women, totaling to six women reserved seats), 2 each from pre-Buddhist school (Bon) and four religious schools of Buddhism, elected from India, Nepal and Bhutan, 2 from Tibetans settled in North and South Americas, 2 from Tibetans settled in Europe and Africa and 1 representative from Asia and Australasia excluding India, Nepal and Bhutan. Over the years, we are proud to confirm that we have more women parliamentarians than the above mentioned reserved seats and in this term too, we have 11 women parliamentarians who are very empowered.
Though a high level of democratic process is undergoing in exile, the situation inside Tibet still remains critical and alerting. Since 2009 uptil now, we have a high rate of 153 self-immolations undertaken inside Tibet and the majority of those self-immolators are young Tibetans who have not seen His Holiness the 14th Dalai Lama and still yearns for His glimpse and return to Tibet. In Tibet, there is a high degree of human rights violations, the degrading environmental situation, the enforced education policies to accept Mandarin Chinese as the mother language, the interference in the reincarnation process of Tulkus and lama, particularly His Holiness the Dalai Lama, the damming projects, the illegitimate imprisonment, the abduction of His Eminence 11th Panchen Lama and various other high lamas, destruction of monastic institutions like Larung Gar and Yachen Gar and various other repressive policies which are so heartbreaking to share. Our Tibetan brothers and sisters in Tibet are still struggling every minute under the brutal torture of Chinese authorities. His Holiness and Central Tibetan Administration has from time to time called upon Chinese government to resolve the long standing issue of Tibet through peaceful negotiations. And we succeeded in connecting with them on 9 rounds of dialogue from 2002 but then right after early 2010 talk, there was no response from them in continuation of this peaceful negotiation despite being made every effort from our side. Since 1970s, Central Tibetan Administration (CTA) has taken Middle Way Approach as a step to solve the Sino-Tibet conflict and has adopted this policy in the Tibetan Parliament as well. The Middle Way Approach has been the  political stand of CTA and is truly committed towards it, wherein Tibetans are ready to live with Chinese brothers and sisters.
This year in May, we had 7th World Parliamentarians' Convention on Tibet (WPCT) organized by Tibetan Parliament-in-Exile in association with Latvian Parliamentary Group for Tibet and International Network of Parliamentarians for Tibet, where Parliamentarians from all over the world declared the urgency of Sino-Tibet conflict resolvement and especially urged all the parliamentarians to adopt the Reciprocal Access to Tibet Act, laws and adopt resolutions in their parliaments towards furthering the issue of Tibet.
Then in the last month i.e. October 2019, Third Special General Meeting was jointly organized by Tibetan Parliament-in-Exile and Kashag wherein a resolution calling Chinese government that the entire process for the discovery and recognition of the reincarnation of His Holiness the Dalai Lama lies in His Holiness the 14th Dalai Lama himself and duly empowered responsible officials of Gaden Phodrang Trust of Dalai Lama and rejects the Chinese government in the discovery and recognition of reincarnations in Tibetan Buddhism in general and especially its coercive Order No. 5 declared in 2007 on the question based on it. Moreover, it was declared that His Holiness the Great 14th Dalai Lama is the unsurpassable leader of Tibetan nation and will continue as the ultimate protector-refuge of utmost recourse both for the present and the future Dalai Lama for a hundred eons.
With this, on behalf of all Tibetans and Tibetan Parliament-in-Exile, I offer my gratitude to all of you who have worked tremendously for the upliftment of Tibetan people in exile, bringing awareness of the critical situation of our Tibetan brothers and sisters with parliamentarians and people of your localities and other localities, preserving our Tibetan culture and language which is the very basic nature of the existence of Tibetans even after 60 years of exile and many other commendable activities run by your organization.
Thank you once again to Hon. Ven Thubten Wangchen, the members and those who worked in the success of this organization.
Wishing you many more success in your future endeavours.
Thank you.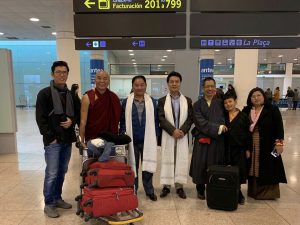 Speaker Pema Jungney received by Representative Tashi Phuntsok (Bureau du Tibet, Brussels), Parliamentarian Thupten Wangchen (Director of Casa Del Tibet Spain), and Staff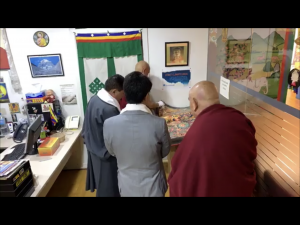 Speaker observing photographs at Tibet House before his address