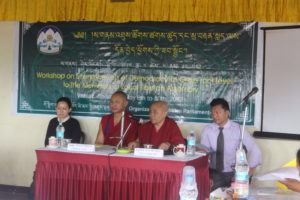 SHILLONG : A 5 days workshop scheduled from 6th May to 10th May 2017, entitled "Strengthening of Democracy at Grass-roots Level to the members of Local Tibetan Assembly", started with a welcome speech by Mr. Tsering Dhondup, Tibetan Settlement Officer, Shillong. The Speakers for the workshop are Acharya Yeshi Phuntsok, Deputy Speaker, Tibetan Parliament-in-Exile and Geshe Monlam Tharchin, members of Tibetan Parliament-in-Exile.
This workshop aims at strengthening Tibetan democracy at the grass root level by imparting the participants with the detailed information on Central Tibetan Administrative Charter, Budget Policy, proceeding of Parliamentary session etc with an effort to imbibe them with the capabilities to understand and raise the issues of general public, to make informed decisions and to hold public offices accountable.
Within the 5 days workshop, the participants will also engage in Question-Answer session along with a mock session under the guidance of the respective speakers.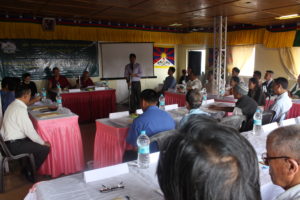 This workshop is attended by the respective Tibetan Settlement Officers, Speakers and Deputy Speakers of Tibetan settlements from Shillong, Tezu, Tuting, Tenzingang and Miao with the total strength of 49 participants.
This is the first workshop conducted by the Tibetan Parliament in Exile to the members of the Local Tibetan Assembly.