Odisha: Parliamentarian Youdon Aukatsang, Parliamentarian Geshe Monlam Tharchin and Parliamentarian Tashi Dhondup continue the Tibet Advocacy Program in the state of Odisha. The Parliamentarians were warmly welcomed on the arrival at Bhubneshwar airport by the Phuntsokling Settlement Officer Khenpo Pema Tenphel on 20 August 2023.
Shri Jagadananda, Mentor & Co-founder, Centre for Youth and Social Development (CYSD) welcomed the parliamentarians and headed a meeting. Present at the meeting were Shri Sujeet Kumar, Hon'ble Member of Rajya Sabha, Chair of All-Party Indian Parliamentary Forum for Tibet, Prof. Sudhakar Panda, Ex-Vice Chancellor Birla Global University, Basant Mohanty, Former Director CARE- Odisha, Shri Ambika Prasad Nanda, CSR Head, TATA Steel, Ms. Lalita Misal, National Alliance for Women, Shri Madhusudan Misha, IAS (Retd.), Registrar, JK University. There were also media and other guests gathered at the meeting. The meeting was organized by Centre for Youth and Social Development (CYSD) at their centre. CYSD is a non-government and non-profit organization established in 1982. The Parliamentarians were facilitated with accommodation and transportation by Kalinga Institute of Industrial Technology(KIIT) during their stay in Odisha.
Shri Sujeet Kumar introduced the All-Party Indian Parliamentary Forum for Tibet and spoke on how to garner support for the cause of Tibet. The Parliamentarians spoke on the History of Tibet, Cultural relationship between India and Tibet, Importance of the cause of Tibet to India and the current situation in Tibet.
The meeting also saw various speakers emphasizing the ways to garner support for the cause of Tibet which was followed by discussions. The meeting was successfully concluded with a question and answer session. This meeting was covered and published on the Telegraph newspaper on the 21st August 2023.The parliamentarians presented the appeal letter and other documents to Shri Sujeet Kumar Ji.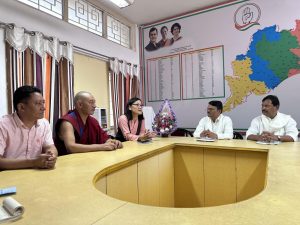 On 21 August 2023, the Tibetan law makers visited the Indian National Congress office in Bhubneshwar and met with Shri Dasarathi Gomango, MLA, Shri Sarat Patnaik, President, OPCC, Shri Sudarshan das, Social Activist, Chairman of RGPRS, Shri Samarendra, MP candidate Shri Suredra Routray, MLA, Pradyumna Das, Social Activist, Shri Kunal Bannerjee, National Coordinator RPRS, Shri K Raju CWC Member. The parliamentarians presented them with the TPiE documents and had a very interaction.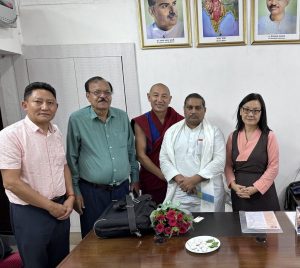 The parliamentarians then visited the BJP office later in the afternoon and met with Shri Manas Kumar Mohanty, Sr. Gen Secretary (Org) and Shri Mahesh Chandra Mohanty, SEM, and urged them to request the MLAs of the party to support the cause of Tibet.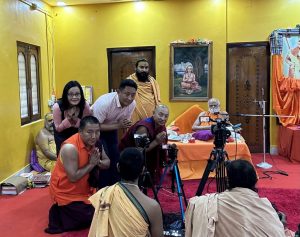 Later that evening, the Parliamentarians met with 145th Jagad Guru Shankaracharya of Govardhan Math and Shri Nischalananda Saraswati. They presented them with Tibetan traditional white scarves, biography of His Holiness the Dalai Lama and TPiE documents. 
The two-day advocacy in the state of Odisha concluded with the visit to Hindu Temple Shree Jagannath. This advocacy in the state was jointly participated by the settlement officer of Phuntsokling.
Tibetan Parliamentarians' Outreach to Indian Universities is funded by USAID and NDI.