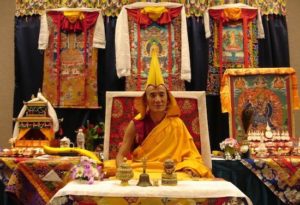 Dharamshala: The Tibetan Parliament-in-Exile today mourned the demise of Kyabje Jetsun Lobsang Tenzin Rinpoche, the 103rd Gaden Tripa. Rinpoche passed away at 11.45 pm on 21 April at Max Hospital in New Delhi after a prolonged illness.
In a letter addressed to the Drepung Loseling Monastery and followers of Rinpoche, the Tibetan parliament wrote: "The demise of Kyabje Jetsun Lobsang Tenzin Rinpoche is a huge loss to the Gelug school and Dharma at large. We extend our heartfelt condolences to all his devotees around the world."
Brief bio-data of late Kyabje Jetsun Lobsang Tenzin
In 1937, Kyabje Sharpa Chojey Jetsun Lobsang Tenzin was born to the Sesha clan at Yara village in the Dechen District in Eastern Tibet, located southeast of the Yagra Tsem monastery. At the age of 9 he joined the Tsem monastery where he received his primary and basic education. Thereafter, he joined the Drepung Loseling Monastic University for his higher education where he received various teachings from reputed spiritual masters like Venerable Khensur Pema Gyaltsen, Shakor Khen Rinpoche Nyima Gyaltsen, Kyabje Denma Lochoe Rinpoche, Tehor Gen Lobsang Dhondup, to name a few. He also received many teachings of His Holiness the Dalai Lama and his two supreme tutors.
In 1959, Kyabje followed His Holiness the Dalai Lama into exile and continued his studies at Buxar. In 1964 he took full ordination vows (Bhikshu) from His Holiness the Dalai Lama at Dharamshala. With most major monasteries being relocated in South India, Kyabje served the Drepung Loseling monastery in various capacities.
In 1982, he was awarded the Geshe Lharampa Degree, the equivalent of a doctorate in philosophy and the highest degree of training in Tibetan Buddhism. In 1983, he joined Gyuto Tantric Monastery for advanced Tantric studies. From 1987-89, he served as the chief disciplinarian of Drepung Tsokchen and Loseling monastery.
In 1990, His Holiness the Dalai Lama appointed him as the Lama Umse, the assistant abbot of Gyuto Monastery and later promoted him to the post of 119th abbot of Gyuto monastery in 1993. After completing his tenure as abbot, he returned to Drepung Loseling Monastery to continue to teach and train monks for the Geshe degree. In 2003, he was formally enthroned as Sharpa Chojey at the Gaden monastery.
Translated into English by DIIR