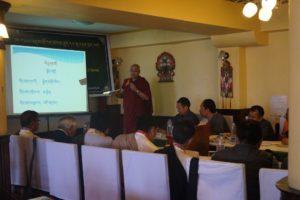 Gangtok: A 5 days' workshop scheduled from 18 June to 22 June 2017, entitled "Strengthening of Democracy at Grassroots Level to the members of Local Tibetan Assembly", started with a welcome speech by Mr. Tenzin Tsepak, Tibetan settlement officer,Gangtok and then, the Speaker elaborating on the evolution of democracy in exile Tibetan community, importance of preserving our language and culture. Lutsang Gyarik Thar talked about the long struggle and contest from feudalism and communalism to achieve democracy citing examples from the western countries. But our democracy which is uniquely 'gifted' to the Tibetan people by His Holiness the 14th Dalai Lama. And being elected directly by the peoples, ours is the governance wherein the atrocity to the public is improbable.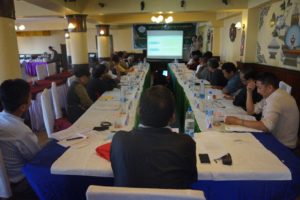 The participants for the workshop included the members of local Tibetan assembly from Gangtok, Ravangla, Kalimpong, Darjeeling, and Sonada. However, due to the certain circumstances in Darjeeling, the participants from Darjeeling and Sonada couldn't make it. Thus, 31 members participated in the workshop.
In the first session of the workshop, Khenpo Sonam Tenphel la elucidated in details the Chapters and clauses as in the Charter related to the procedure of the parliamentary session, raising questions, annual budget accounting, evaluation of budget, revenue collection. After the session, he took questions from the participants and clarify the doubts. He concluded the workshop by imploring the participants to make this workshop successful by imparting whatever they learn during the 5-day course to the future members of their respective assembly.
This is the second workshop to the Tibetan settlements located in the North-East region of India in this year by the Tibetan Parliament in Exile.