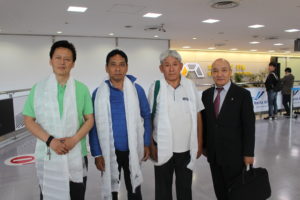 TOKYO, Japan: A three-member delegation of the Tibetan Parliament in Exile – Mr Dawa Tsering, Mr Karma Gelek and Mr Tenzin Jamyang – today arrived in Japan for a week-long official visit.
On the arrival on a pleasant weather at Narita International Airport, the delegation was welcomed by Mr Lungtok, Representative of His Holiness the Dalai Lama and staff of the Office of Tibet.
Tomorrow , the members of the Tibetan Parliament will give a public talk to members of the Japanese community on a theme titled "Current Tibet Situation and Tibetan Parliament in Exile" at the office of Tibet. Following this, they will give a talk to members of the Tibetan community-based in Japan.
On 25 April, the delegation will visit the office of Tibet and Representative Mr. Lungtok will apprise them about the working of the office.
On 26 April, the delegation will meet the board members of the Japan and Tibet Parliamentary Group for Tibet at the House of Representative, Parliament building. Later, they will meet with Ms. Sakurai Yoshiko, President of the Japan Institute of National Fundamentals, a think-tank in Japan, and a long-time supporter of the Tibetan people.
The delegation will also visit educational and cultural centres around Japan during their maiden visit to Japan.
(Report filed by the Office of Tibet)