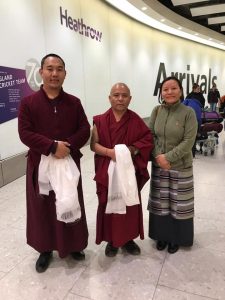 Deputy Speaker Acharya Yeshi Phuntsok, Khenpo Jampal Tenzin with a staff of Office of Tibet, London.
–Report filed by OoT, London
London: Acharya Yeshi Phuntsok, Deputy Speaker of the Tibetan Parliament-in-exile, reached London Heathrow airport this afternoon, accompanied by fellow parliamentarian Khenpo Jampal Tenzin.
Two other Tibetan parliamentarians: Khenpo Kada Ngedup Sonam and Mr Ratsa Sonam Norbu arrived at London a day earlier.
The Tibetan parliamentarians were received upon arrival by the staff of Office of Tibet, London and the council members of Tibetan Community in Britain.
The four-member Tibetan parliamentary delegation headed by the Deputy Speaker will be visiting the Scottish Parliament in Edinburgh, where an exhibition on Tibet has opened this week to commemorate the 60th anniversary of the Tibetan exile; and where a reception will be held on Wednesday, 6th March 2019.
The delegation will also meet and interact with the Tibetan community in Britain on Saturday, 9th March 2019; and will take part in the 10th March commemoration events in London. The Deputy Speaker, on behalf of the delegation and the Tibetan Parliament, will speak at the meeting of the All Party Parliamentary Group for Tibet in the UK Parliament on Monday, 11th March 2019. There are other meetings with dignitaries planned for this visit.