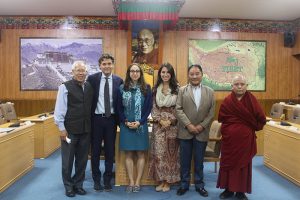 Speaker and Deputy Speaker along with US Congressional Staffer Ms. Bethany Poulos, US Congressional Staffer Ms. Sarah Arkin, ICT President mr. Matheo Macacci and Kasur Tenpa Tsering
Dharamsala: US Congressional Staffers Ms. Bethany Poulos, Legislative Assistant, Office of Senator Rubio and Ms. Sarah Arkin, Deputy Staff Director, Senate Foreign Relations Committee along with ICT President Mr.Matteo Mecacci and Kasur Tenpa Tsering visited Tibetan Parliament-in-Exile earlier today.
Speaker Pema Jungney and Deputy Speaker Acharya Yeshi Phuntsok received them at the Speaker's office and explained the features of unicameral system, composition of Tibetan Parliament-in-Exile (TPiE), and Budget and General sessions of TPiE.
They also spoke about the 7th World Parliamentarians' Convention on Tibet held in Riga, Latvia and about the visitation program of the Tibetan Parliamentarians to various countries to meet Parliamentarians, officials and think tanks to garner support for the cause of Tibet.
They further elucidated the current situation inside Tibet and about the self-immolations happening inside Tibet.
Speaker and Deputy Speaker also thanked US government and people, especially US Congress for supporting Tibet issue and urged for their continued support.
They also urged US government to appoint a special coordinator for Tibetan issue through them to accelerate the process of resolving the long-standing issue of Tibet.
The Speakers then answered questions asked by the US Congressional Staffers regarding election procedures etc. and visited Parliament hall.