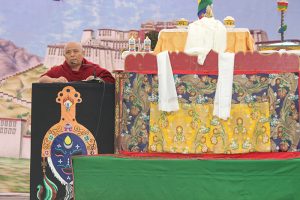 Dharamsala: Deputy Speaker of Tibetan Parliament-in-Exile (TPiE), Acharya Yeshi Phuntsok addressed the 15th Anniversary of Tibetan Children's Village (TCV) Chauntra, which commemorates gratitude to His Holiness the 14th Dalai Lama with the presentation of famous Tibetan Opera (Lhamo) called 'Sukyi Nyima' on 21 November 2019.
The 15th Anniversary paved way with Deputy Speaker Acharya Yeshi Phuntsok of TPiE as the Chief Guest, Secretary Karma Singe as the special guest and other guest Parliamentarian Dawa Phunkyi along with Director of Tibetan Children's Village, Tibetan Settlement Officers of Bir Tibetan Society, Bir Dege and Chuantra, Chairman and Vice-Chairman of Tibetan Local Assembly, Directors and Principals of schools, former directors of TCV Schools, representatives from monasteries, teachers, staff and students of TCV Chauntra.
Deputy Speaker started his address by greeting all the people on behalf of Tibetan Parliament-in-Exile and elucidated the gathering of people on the establishment of Tibetan settlements, schools, monasteries, and institutions as per the aspiration of His Holiness the 14th Dalai Lama and with the resources provided by the Indian government from 1959 to 1980.
"Initially people residing in Bir Tibetan Society, Bir Dege, Chuantra, and Tashi Jong had only one primary CST School, and people of the aforesaid settlements used to send their children to schools in Paonta, Dalhousie, Shimla, etc. for further education. Which later changed with the establishment of bigger schools, starting with TCV Suja for the newly arrived Tibetans and TCV Chauntra which was previously based at Patlikuhl calling TCV Patlikuhl."
Deputy Speaker further mentioned "Exiled Tibetans started strengthening and development of Tibetan settlements, schools, and monasteries from 1980 to 2000 for 20 years following the advice of His Holiness the Dalai Lama. For example, TCV Schools which thrived and strengthened under the leadership of Tsering Dolma, elder sister of His Holiness the Dalai and Jetsun Pema, the younger sister of His Holiness the Dalai Lama."
"At reaching peaks of development after 19 years from 2000 until today, Tibetans schools are on the verge of closure or merger because of the apparent reduction in the numbers of students," he said.
Deputy Speaker than cited Professor Samdong Rinpoche who used to say during the public addresses that "elders are witnesses, reminders for the middle-aged people, and new history for the youths, so today it is to remind and pass the historical information to the youths on this commemoration day."
He appreciated TCV Chauntra, which has around 700 students for a balanced ratio of boys and girls and for following His Holiness the Dalai Lama's advice in enrolling Himalayan students who have a common culture, religion, and Lama with the Tibetans.
"Tibetan Parliament-in-Exile adopted basic education policy to protect distinct Tibetan language, culture, and religion as per clause 17 of chapter 3 titled 'Education and Culture' enshrined in the Charter of Tibetans in exile, so it's extremely important to implement the education policy. Today young Tibetan students who are studying in Tibetan schools and different Indian colleges have strong Tibetan values and characteristics because of His Holiness the Dalai Lama's farsighted vision and kindness of the first Prime Minister of India Pandit Jawaharlal Nehru in incorporating Buddhist Philosophy and Tibetan cultural music & dance in curriculum of Tibetan schools," he said.
He further advised students to study diligently using logic, in addition to scoring high marks and added saying that the first generation Tibetans who escaped to India have almost demised, the second generation Tibetans are now turning over 60 of ages, the ones leading the Tibetan struggle are now the third generation of Tibetans in exile, and you children are the fourth generation who are the future seeds of Tibet. In Tibet, children as young as 15 years old are self-immolating themselves to protect Tibetan language, culture, and religion, so the fourth generation Tibetan like you should strive hard in studies.
With the conclusion of his speech, Deputy Speaker awarded honor certificates to the teachers and staff of the school who have served for more than 20 and 25 years. Thereafter, it concluded with the presentation of Tibetan famous opera (Lhamo) called ' Sukyi Nyima'.