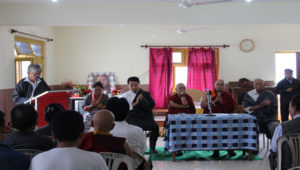 DHARAMSHALA: Speaker and Deputy Speaker of the Tibetan Parliament-in-Exile Graced the special occasion of the sixth anniversary of Middle Way Day at Yongling School, Mcloed Ganj on 18 September 2016.
The function was attended by members of the Tibetan Parliament-in-Exile and the representatives from NGOs. Following a minute's silence for the Tibetan self-immolators who have sacrificed their lives for the cause of Tibet, Mr. Dawa Tsering, serving member of the 16th Tibetan Parliament-in-Exile and the Assistant Director of the Middle Way Association, gave the introductory remarks and delivered a brief account of the association.
Special Guest Deputy Speaker Acharya Yeshi Phuntsok said that the members should be practical to the resolutions made regarding the Middle Way Approach. He also urged the members to be systematic and united in pursuing the goals of the association.
He further spoke on the importance of focusing on the official statements of the CTA to be informed of the status and progress of the administration.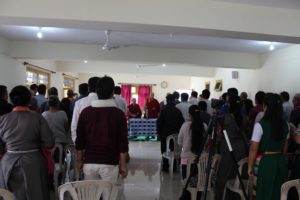 Speaker Khenpo Sonam Tenphel, Chief Guest of the event reiterated the Central Tibetan Administration's firm stand on the Middle Way Approach (MWA) and the essence of the approach in resolving the Tibet issue with the mutual benefit for both Tibet and China.
"Since the adoption of Middle Way Policy, China and Dalai Lama's envoys have had nine rounds of Sino-Tibetan dialogue from 2002-2010 but no specific changes have been realised so far. Even though MWA is a mutual beneficial, the Chinese authorities expressed sheer reluctance to agree to our terms," Speaker stated.
Speaker further highlighted the extensive support and appreciation for the middle way policy envisioned by His Holiness the Dalai Lama and the means of non-violence to resolve the issue of Tibet, expressed by prominent world leaders including US President and European Union and especially Chinese people.