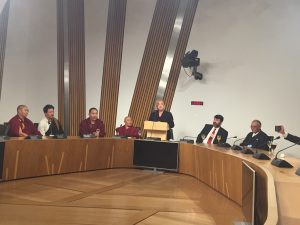 The chair of the Cross Party Group for Tibet Hon Ms Linda Fabiani MSP addressing at the reception event
–Report filed by OoT, London
A weeklong member-sponsored exhibition on Tibet is currently underway in the Garden Lobby of the Scottish Parliament from 4-8 March 2019.
The exhibition titled "The Future of Tibet, Heartland of Asia" is being arranged by the Cross Party Group for Tibet (CPGT) in Scottish Parliament; and placed strategically at the garden lobby (between the offices of the Members of Scottish Parliament (MSP) and the debating chamber) to give MSPs the opportunity to meet informally with members of the Group and learn about its work.
A reception event was held by the CPGT on Wednesday 6th March 2019 from 6-8pm at the Scottish Parliament at Holyrood, Edinburgh, attended by the visiting Tibetan Parliamentary delegation & the Representative of Office of Tibet, London.
The chair of the CPGT Hon Ms Linda Fabiani MSP welcomed the four-member Tibetan Parliamentary delegation, led by Deputy Speaker of Tibetan Parliament-in-exile Acharya Yeshi Phuntsok, to the Scottish Parliament. She expressed her support and that of her Parliamentary colleagues in the Cross Party Group to the issue of Tibet; and mentioned that the exhibition is a statement to that effect.
Acharya Yeshi Phuntsok thanked Hon Linda Fabiani and everyone associated with the CPGT for their solidarity with Tibet. He highlighted the importance of the Tibet exhibition in this 60th Anniversary year of Tibetan ་national against the Chinese rule in 1959. He called for the continued support of the MSPs in particular towards peaceful resolution of the Tibet issue. Referring to the 7th World Parliamentary Convention on Tibet, to be held in Riga this May, he urged participation from the MSPs present.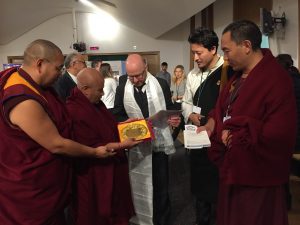 The Tibetan Parliamentary delegation gifting memento to the Leader of the Scottish Green Party
The Tibetan Parliamentary delegation gifting memento to Hon Ross Greer, MSP from the  Scottish Green Party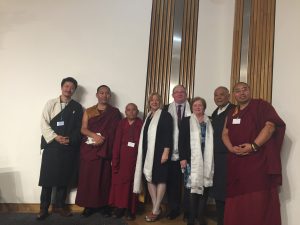 Tibetan Parliamentary delegation with the three Members of Scottish Parliament