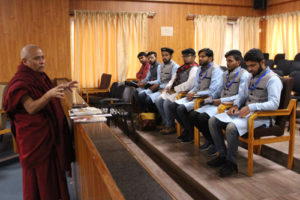 Dharamshala:A group of students from the Institute of Leadership & Governance, the Maharaja Sayajirao University of Baroda visited the Tibetan Parliamentary Secretariat on Monday,  12 February.
The students was received by Deputy Speaker of the Tibetan Parliament-in-Exile, Acharya Yeshi Phuntsok.
Deputy Speaker gave a brief talk to the group in the assembly session hall. In the speech, Deputy Speaker explained the past history of Tibet, situation inside Tibet,the historical relationship of India and Tibet and the growing issue of Self-immolation inside Tibet due to continue implementation of hard line policies by Chinese Government. He also introduced them to various Parliamentarian support groups for Tibet and other Tibet support groups around the world. Deputy Speaker further briefed them about the middle way approach, the proceedings of Tibetan Parliament session,its two session,their respective features and function.
During the brief speech, he also urged them to support the cause of Tibet by knowing the facts about the issue of Tibet. He also wished them to become a virtuous leader in the future.
The students are on a four-day Field Study trip to Dharamshala.