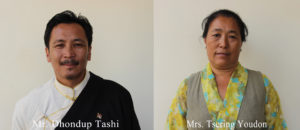 Dharamsala: As per the Tibetan Parliament-in-Exile's program to meet the Governors, Chief Ministers, Speakers and members of State Legislative Assemblies in various states of India and to advocate for Tibet's cause, Parliamentarians Mr. Dhondup Tashi and Mrs. Tsering Youdon are scheduled to visit Bihar and Uttar Pradesh from Oct 7 to 17.
The parliamentarians would depart for Delhi from their respective places on Oct 7. They will commence with Tibet advocacy program from Oct 11 to 13 at Patna, Bihar. Thereafter, they shall continue with their program in Lucknow, Uttar Pradesh from Oct 14 to 16.
They are scheduled to return to their respective places on Oct 17.