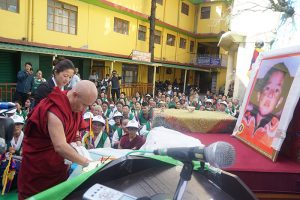 Dharamsala: Deputy Speaker Acharya Yeshi Phuntsok addresses the 30th Birthday celebration of 11th Panchen Lama as a chief guest organized by Tibetan Women Association (TWA) on 25 April 2019 at 8:30 AM in front of Martyrs Pillar of Tsuklagkhang, Dharamsala.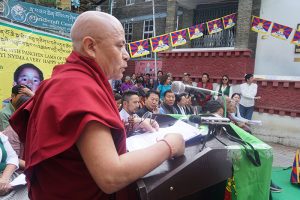 Deputy Speaker lauded the Tibetan Women Association (TWA) and its branches for organizing campaigns all over India and world. Especially, for organizing a peace march in five regions across India.
He greeted the guest of the opening of the march program Shri Ram Swaroop, former President of Tibet support group of 1990s in Dharamsala and staunch Tibet supporter, Shri Prushotam, a regular participant in campaigns for Tibet and a Tibet supporter, Parliamentarians from TPiE, members of Tibetan Women Association (TWA) and other participants on behalf of Tibetan Parliament-in-Exile.
Since the recognition of the 11th Panchen Lama and his abduction by Chinese government, until now Indo Tibet Friendship Association has organized meetings and discussions to create awareness amongst Indians.
Along with celebrating Birthday of the 11th Panchen Rinpoche, Deputy Speaker suggested that we should spread awareness and seek international support concerning the 11th Panchen Rinpoche's abduction by Chinese government. Each and every individual Tibetan should strive to get some result instead of leaving every thing to Central Tibetan Administration (CTA) or other organization. So, Deputy Speaker urged all the Tibetans to take responsibility and do their best to release the 11th Panchen Lama.
Before the demise of the 10th Panchen Lama, the Central Government of China had asked the 10tH Panchen Lama to finalize all the tulkus, to which he responded that it is not necessary for the tulkus to be born before the death of the previous body or a very long time after the death of the previous body, like His Holiness the 7th Dalai Lama who was born before the death of the 6th and objective of incarnation is to serve Buddhism and monastery.