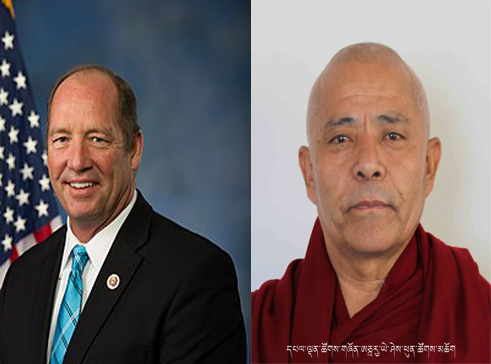 Deputy Speaker expresses gratitude to Congressmen Ted Yoho of the US
Dharamsala: Deputy Speaker Acharya Yeshi Phuntsok, on behalf of Tibetans in and outside of Tibet and the 16th Tibetan Parliament-in-Exile, expressed his profound gratitude to Hon. Ted Yoho, Member of the U.S House of Representatives for introducing a Formal Resolution in the US Congress's House of Representatives, titled 'Recognizing the significance of the genuine autonomy of Tibet and the Tibetan people and the work His Holiness the 14th Dalai Lama has done to promote global peace, harmony and understanding' on 13th November 2019.
Deputy Speaker in his Thank You letter wrote, "The resolution recognizes the cultural and religious significance of a genuinely autonomous Tibet and the deep bond between the American and Tibetan people. It commends the 14th Dalai Lama for his commitment to global peace and non-violence."
"It has also proposed that it would be beneficial to convene a bipartisan, bicameral forum, either through a joint meeting in congress, a teleconference broadcast in the Auditorium at the Capitol Visitor Center, or roundtable between members of Congress and the Dalai Lama to discuss peaceful solutions to international conflicts," he wrote.
He wrote, "Therefore, I would like to thank your Excellency Congressman Ted Yoho, Rep. Michael McCaul, Rep. Chris Smith and Rep. George McGovern for raising and supporting the Tibet issue and for introducing the Resolution in the US Congress's House of Representatives."
He concluded the Thank You letter by writing, "I would also like to thank the parliament and the government of the United States for their support and for introducing formal resolutions occasionally, which has been of great help in keeping the Tibet issue alive, constant and sustained. I look forward to your continued determination in advocating Tibetan issue in regard to human rights and fundamental freedom of Tibetans inside Tibet and hope your support to the cause of Tibet will continue in the future as well."
Original letter here