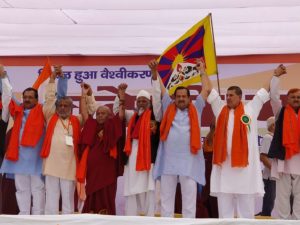 ITCO, 29th October 2017, New Delhi – Acharya Yeshi Phuntsok, Deputy Speaker of Tibetan Parliament-in-Exile, Dharamsala took part in massive rally organised by Swadeshi Jagran Manch (SJM) under the banner of 'Swadeshi Maha Rally' at Ramlila Maidan.
As per the Declarations announced by the President Shri Arun Ojha, the organisation has led two years of intensive campaign of 'Rashtriya Swadeshi-Suraksha Abhiyan' (RSSA) against influx and dumping of Chinese goods. The organisation has collected 2.5 crore signatures from across the country demanding a boycott of chinese products in India. They have also organised street plays, rath yatras, seminars and distribution of pamphlets as a part of its campaign.
The Mega Rally is the final phase of successful RSSA campaign and is actively participated by around 1 lakh SJM activists from different parts of the country. There were around 46 eminent speakers from different political background, religious faiths, organisations and retired army personnels.
Guest of Honour, Acharya Yeshi Phuntsok, also spoke on the occasion said that Tibetans have been voicing against the chinese products for the last more than 30 years. We call for Boycott Chinese Goods for so many years not just because Tibet was annexed by China in 1959. We call for it with valid arguments saying it's hazardous or poisonous to use chinese products specially for children using china made toys, product are cost free because they were made by prisoners without any wages, the influx will eradicate small scale industries within the country, and more. Deputy Speaker thanked the organisation for creating such a massive movement calling for the boycott of chinese products and also giving Tibetans the opportunity to show solidarity and take part in the rally.
After the rally, the 15 core committee member of the organisation then approached and submitted 8 point memorandum of the campaign to Smt. Nirmala Sitharaman, Defence Minister of India, Shri Vijay Goel, MoS in the Ministry of Parliamentary Affairs and Shri Arun Singh, National General Secretary of BJP. Interestingly, the organisation dedicated point no (7) specifically for Tibetan issue which Deputy Speaker appreciated and thank the organisation in front of the honorable ministers during the meeting.
Point no (7) calls for the Government of India to take initiative in resolving Tibet issue by generating international awareness on the issue and mobilise international support by creating global alliances to stop human rights abuse happening inside Tibet and china.
Around 500 Tibetans participated in the rally, under the leadership of Samyeling Settlement Officer Mr.Lekhy Dorje and his staff, to show solidarity from Majnukatilla Tibetan settlement, Budhvihara Tibetan shop keepers, member of Tibetan Frreedom Movement, Regional Tibetan Women Association, Residence Welfare Association,Guest House & Restaurant Association, Tibetan Youth Hostel, South Delhi Tibetan Association, Staffs of CTA offfices & Sherig Parkhang, and representatives from Tibetan sweater seller unions in and around Delhi NCR region.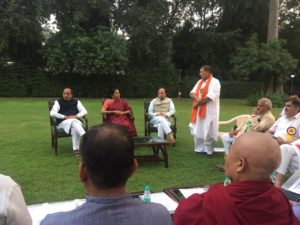 In the official website of Swadeshi Jagran Manch, it was founded in November 22, 1991 at Nagpur, Maharashtra. Representatives of five national level organisations including Bharatiya Mazdoor Sangh (BMS), Akhil Bharatiya Vidyarthi Parishad (ABVP), Bharatiya Kisan Sangh (BKS), Akhil Bharatiya Grahak Panchayat (ABGP) and Sahkar Bharati took this decision in the presence of Shri Dottopant Thengdi, founder of Bharatiya Mazdoor Sangh (BMS). The organisation claims that it emerges as ma forceful mobilisation, with a vision and action plan for a truly self reliant Bharat and equitable world order, that nobody can afford to ignore.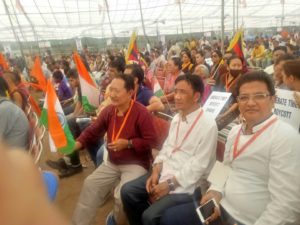 –Report filed by ITCO Delhi–