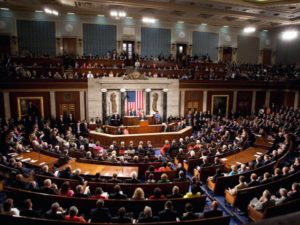 Dharamsala : Speaker Khenpo Sonam Tenphel wrote to Senator Patrick Leahy, United Sates, today, to express his heartfelt gratitude to the United States Senate on behalf of Tibetan Parliament-in-Exile, for unanimously passing its resolution 429 during its second session of the 115th Congress on April 26, 2018, which commemorated the 59th anniversary of Tibet's 1959 uprising as "Tibetan Rights Day", and called any interference by the Government of the People's Republic of China (PRC) in the religious process "invalid".
He wrote, 'Through this opportunity, I sincerely thank you and Senator Feinstein, Senator Cruz, and Senator Rubio, and the Senate for the resolution passed.'
'Religious matters should be dealt solely through religious approach. Therefore, Tibetans will only venerate the instructions from His Holiness the 14th Dalai Lama on the subject of his reincarnation. Moreover, I hope this resolution steer major improvement in the linguistic, cultural and religious rights of Tibetans in Tibet. This esteemed resolution has been heartening and reassuring to the Tibetan people of your unwavering supports,' added the Speaker of Tibetan Parliament-in-Exile.
While expressing his gratitude to the US senate, he wrote that the S.RES.429 visibly acquaints the world about the Chinese Government's continued violation of human rights in Tibet. He also called for their continued support in raising the human rights issue of Tibetans and urging the Chinese leadership to engage in dialogue to peacefully resolve the issue of Tibet through the Middle Way Approach.
Click here to the read the resolution 429 passed by US Senate.