Parliamentarian Dorjee Tsetan and Parliamentarian Tsering Lhamo began the Tibet Advocacy program in the state of Rajasthan on 12 August, 2023. Continuing the advocacy program, on the invitation of Rawat Group of Colleges, Jaipur, the parliamentarians took part in the celebration of the 77th Indian Independence Day with the college's staff, students and others.
Parliamentarian Dorjee Tsetan addressed the gathering and spoke on the long-standing relationship of India and Tibet, the current situation of Tibet under the occupation of China, and Tibet's relevance to India's security and politics. Parliamentarians then presented Shri B.S Rawat, Chairman, Rawat Group of College and Tibet supporter with TPiE memento and books of His Holiness the Dalai Lama's biography and history of Tibet. The college media section then did an interview with the parliamentarians. After which the Parliamentarians left for Jaipur Tibetan Sweater market with the help of the members of the Tibet support group.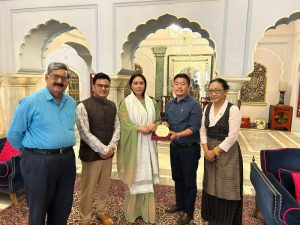 The law makers met with Shri Ramcharan Bohra, Member of Lok Sabha on 16th August and apprised on the cause of Tibet. They further appealed Shri Ramcharan ji to look into the welfare of the Tibetan sweater sellers in the state of Rajasthan and urged him to support our cause. He assured his support and provided a letter showing his support.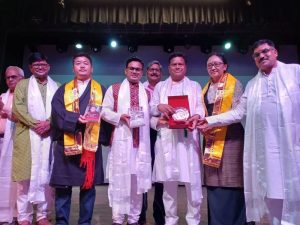 The parliamentarians visited Gyan Vihar University where they were welcomed by Dr, Arunachal Haldar, the Vice Chancellor of the University and Dr. Deep Mathur, Director of Global Outreach. The parliamentarians delivered talk at the gathering highlighting the grim situation inside Tibet, Tibet being independent historically, China's position in the geopolitics, Introduction of Central Tibetan Administration and Tibetan Parliament-in-Exile.
The parliamentarians then had a meeting with IPS Umesh Mishra, Director General of Police, Rajasthan and other staffs. They had an interactive meeting on Tibet cause and urged to look after the welfare of the Tibetan sweater sellers. After the meeting, Parliamentarians met with Mukesh Mathur, State Editor, Rajasthan and apprised him about the ongoing State-wise Advocacy program and Tibetan Parliament-in-Exile.
The Parliamentarians met with Km. Diya Kumari, Member of Lok Sabha at the latter's Palace in Jaipur on 17th August 2023. The parliamentarians informed her on Tibet. As Km. Divya Kumari have special interest in social work, and women's rights and welfare, the parliamentarians also shed light on the situation of Tibetan women in Tibet and exile. She assured her support for Tibet wherever needed. After this meeting, the Parliamentarians left for Gujurat to continue the Tibet Advocacy Program.
The advocacy and outreach program in Jaipur was organised with the support of the India-Tibet coordination office and Bharat Tibbat Manch.
Tibetan Parliament-in-Exile's outreach to the Indian universities is funded by USAID and NDI.