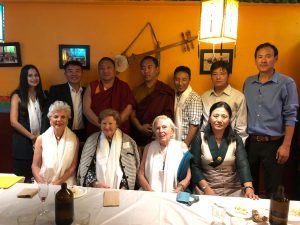 Tibetan Parliamentary Delegation successfully concludes their official visitation program to Australia
Sydney: As per the program of 16th Tibetan Parliament-in-Exile to visit and meet the Parliament members, Tibet support groups, think tanks and officials all over the world as well as to garner more support for the cause of Tibet, a delegation comprising of Parliamentarians Juchen Konchok Choedon, Geshe Lharampa Atuk Tsetan, Khenpo Jamphel Tenzin, and Ngawang Tharpa representing the 16th Tibetan Parliament-in-Exile successfully concludes their official visitation program to Australia by completing their visitation program to Sydney from 14-16 November 2019.
On 14 November, the Tibetan Parliamentarians in the presence of Parliamentarian Kyinzom Dhongdue (Tibetan Parliamentarian representing Australasia), Representative Lhakpa Tsogho of Office of Tibet Canberra, and Chinese Liaison Officer Kelsang Gyaltsen Bawa of Office of Tibet Canberra held a public meeting with the Tibetans living in Sydney. During the Public addresses, Parliamentarian Juchen Konchok Choedon spoke on the evolution of Tibetan Parliament-in-Exile and Parliamentarian Geshe Lharampa Atuk Tseten spoke on Middle Way Policy.
While Parliamentarian Khenpo Jamphel Tenzin talked on accomplishments of His Holiness the 14th Dalai Lama and Parliamentarian Ngawang Tharpa spoke on the current critical situation of Tibet.
They listened to the suggestions and answered questions asked by the general public.  As per the guidance from the Speaker and Deputy Speaker, the suggestions grievances written by the delegates will be submitted to the Standing Committee of the 16th Tibetan Parliament-in-Exile.
The Parliamentary delegates then gave an interview to the Radio Free Asia Chinese. They also went sightseeing in the oceans of Sydney organized by the Tibetans of Sydney on 15 November.
On the same day, they attended and addressed the 50th anniversary of the Tibetan Friendship Group of Australia.
On 16 November, the Parliamentary delegation spoke to Chinese scholars and democracy activists, Falun Gong believers, students, and Hongkongers on the future prospects of the Tibetan Middle Way Policy and current situation of Hong Kong for 3 hours and then gave an interview to a Chinese language newspaper of Australia.
The Parliamentary delegation has returned back to India on 17 November after successfully completing their official visitation program from 7-16 November to Australia.