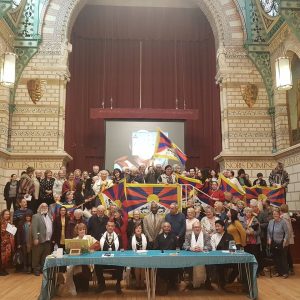 Inside the Northampton Guildhall where the formal event of Tibet flag raising was held
–Report filed by OoT, London
Northampton: The Tibetan national flag was raised in front of the Guildhall in Northampton for the 20th consecutive year on 5th March 2019.
'Today The Mayor Councillor Tony Ansell and The Mayoress Jayne Crofts along with Councillor Phil Larratt, Caroline Scattergood from Cotton's Farmhouse, His Holiness the Dalai Lama's Representative Mr Sonam Tsering Frasi and Mr. Sonam Norbu Ratsa, representative of the Tibetan Parliamentary Delegation and not to forget the many people of Northampton, raised the Tibetan Flag at the Guildhall for the 20th year. This is to acknowledge the plight of the Tibetan people and mark the 60th anniversary of the Tibetan Uprising" The Mayor posted the above message on his official Facebook page.
Representative Sonam Tsering Frasi thanked The Mayor and The Mayoress, Councillor and all the members of the public attending the ceremony and most importantly to chief organiser of the event Ms Caroline Scattergood for being an integral part of the annual flag raising event, which has become kind of a tradition here now.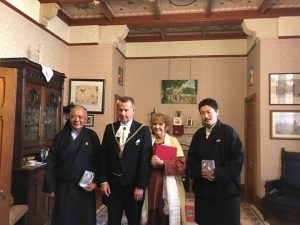 Representative Mr Sonam Tsering Frasi and Mr Sonam Norbu Ratsa, Member of Tibetan Parliament-in-exile, seen here with The Mayor and Ms Caroline Scattergood
The Northampton Tibetan flag raising ceremony is held every year in March to mark the Tibetan National Uprising Day.
'You will be imprisoned in Tibet for as simple an act as flying the Tibetan national flag, as it is considered illegal. It is in this context that your act of flying the Tibet flag year after year for the past two decades is a show of solidarity for the Tibetans inside Tibet who continue to be deprived of basic rights under the Chinese communist rule for 60 years now.' Mr Frasi remarked in his address.
After the flag raising ceremony, The Mayor hosted a tea ceremony for the Representative and the Tibetan Parliamentarian at his office, where Mr Sonam Norbu Ratsa, Member of Tibetan Parliament-in-exile, offered a Tibetan khata and gifted a Memento to The Mayor to thank him for his support.
Expressing his deep admiration for and gratefulness to Ms Caroline Scattergood, Mr Ratsa also gifted her Memento.
The crowd of about 100 at the flag raising event were thrilled to be part of the solidarity for Tibet and rejoiced at the success of the event. The bright sunny day added to the warmth of the uplifting atmosphere.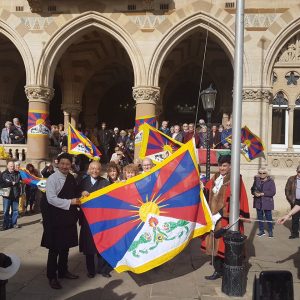 Moments before the Tibetan national flag was raised in front of the Northampton Guildhall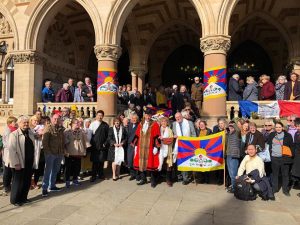 View of the crowd gathered in front of the Northampton Guildhall