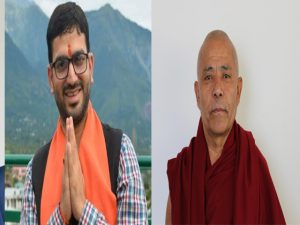 Deputy Speaker Congratulates Vishal Nehria on Winning Dharamsala Assembly Seat
Dharamsala: Acharya Yeshi Phuntsok, Deputy Speaker of Tibetan Parliament-in-exile, on behalf of Tibetan Parliament-in-Exile and Tibetans inside and outside Tibet, congratulated BJP's Vishal Nehria on winning the Dharamsala, Himachal Pradesh by-poll seat with majority votes.
Deputy Speaker in his congratulatory letter wrote, "Dharamsala is known as the winter capital of Himachal Pradesh and home away from for the Tibetans. We are grateful to the government and the people of India and especially the government and the people of Himachal Pradesh for being an amiable host and for enabling Dharamsala to become the core of Tibetan community in exile and now this hillside city is resident to His Holiness the 14th Dalai Lama and the Central Tibetan Administration."
"We are also genuinely grateful to you for providing eternal support towards the struggle and movements for the cause of Tibet and hope the support to Tibet cause from both you and your people will continue n the future as well," he wrote.
The Deputy Speaker concluded with "Therefore, once again we would like to take this golden opportunity to congratulate you and wish you success in all your future endeavours."
Vishal Nehria won the Dharamshala assembly seat in Himachal Pradesh defeating Independent candidate Rajesh Kumar by over 6700 votes.