Dharamsala : Members of the Tibetans of Mixed Heritage, led by it's organizer Kunsang Kelden. Tashi Dondup and Gerogina Doji, visited the Tibetan Parliament-in-Exile on Oct 11.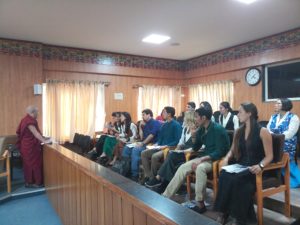 The Deputy Speaker Ven. Acharya Yeshi Phuntsok welcomed them and addressed them on the nexus of the Central Tibetan Administration as well as the composition and the functions of the Tibetan Parliamentary. He also elucidated them on the various Tibet support groups all over the world and on the numerous conventions and forums held by World Parliamentarians Convention on Tibet (WPCT), All Party India Parliamentarian Forum for Tibet (APIPFT) etc.
He entreated them to be au fait with the Tibetan history and its issue and seek support for the cause of Tibet from their respective parliamentarians and leaders based on its historical truth and facts.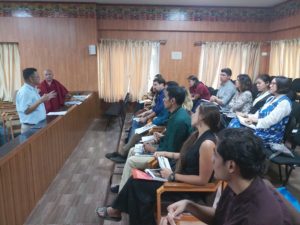 Parliamentarian Lobsang Yeshi also implored them to identity themselves with pride as a Tibetan, for the Tibetan race is but an ancient antiquated human race as per the recent anthropological findings. He further entreated them not to lose hope over the Tibet's issue and to strive for it with all their heart and determination.
The 14 members of the Tibetans of Mixed Heritage are from 8 different countries.