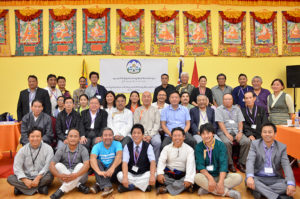 Portland: Member of 16th Tibetan Parliament-in-exile, Mr. Tsewang Rigzin attended the 6th North-America Tibetan Language and Cultural School Conference from 12th August 2017 to 13the August 2017, organized by the US Office of Tibet, D.C at Portland, Oregon as per the invitation received and consent from the standing committee of Tibetan Parliament-in-exile.
The parliamentarian left Minnesota on 11th August 2017 and reached Portland, Oregon on the same day.
On 12 August 2017, at the conference's inauguration, he elucidated on the importance of Tibetan language. He participated in the discussion of the erstwhile conference's resolution implementation, text-book revision, secular ethics as per His Holiness the Dalai Lama's thought and counseled on methods of teaching as well as the usage of the teaching aids at schools during the 2 days conference. He also addressed the audience gathered during the cultural performance by the students of Portland Tibetan Association.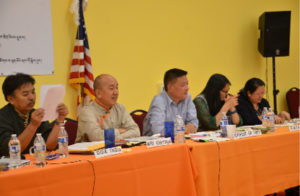 Representative Mr. Penpa Tsering, Office of Tibet, Washington, D.C, Mr. Tsering Samdup, Additional Secretary, Department of Education, Mr. Tsering Tashi, Joint Secretary, Office of Tibet, Washington, D.C and a total of 31 teachers and staffs from 12 different schools also attended this conference.
He returned to Minnesota on 13 August 2017.