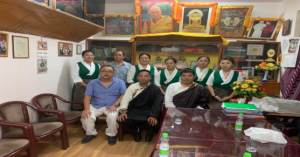 Daramsala: As per the 16th Tibetan Parliament-in-Exile's Tibetan settlements visitation/assessment program, Parliamentarians Karma Gelek and Lobsang Dakpa visited Samyeling Tibetan settlement and areas under the jurisdiction of Samyeling Tibetan Welfare Office in New Delhi from 5-8 September 2019.
During their assessment program in Delhi, the parliamentarians visited Men-tsee-Khang, the TCV day school, the office of Tibetan freedom movement, and office of Tibetan Women's Association, etc.
They also visited Indo Tibetan Coordination Office (ITCO), Loseling monastery, Sherig Parkhang, and community health center.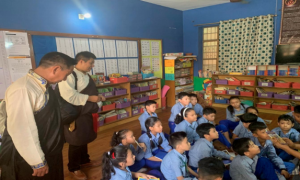 The parliamentarians also addressed a group of representatives of governmental and non-governmental organisations. They responded to their queries and clarified doubts.
Following their talk, the parliamentarians addressed the members of Budhvihar Tibetan Market Association and later took a tour around the area's Gyutoe monastery and the shops.
On 8 September, the parliamentarians addressed the students studying in Delhi colleges at Tibetan youth hostel. Parliamentarian Karma Gelek spoke about the kindness and support of His Holiness the Dalai Lama and further spoke on middle way approach. Meanwhile, Parliamentarian Lobsang Dakpa briefed them on the current status and changes in the status of Tibet and China. He further talked about the importance of education in resolving the issue of Tibet and thus successfully concluded their 3-day visitation program to Samyeling Tibetan settlement.