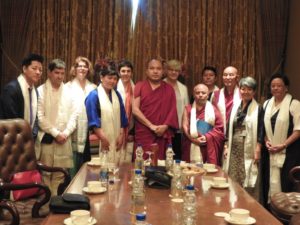 On 1st April, 2017, Working Dinner of Members of All Party Indian Parliamentary Forum for Tibet and Swiss Parliamentarians was held at Hotel Eros Shangrila in New Delhi where Deputy Speaker of the 16th Tibetan Parliament-in-Exile, Acharya Yeshi Phuntsok attended it. This programme was organised by Tibetan Parliamentary Secretariat.
In a meeting, there was an interactive session from both the countries in regard to the issue of Tibet. Indian Parliamentarians appreciated the government and the people of Switzerland. Two representatives, the Minister & Deputy Head Mission and the Head of Human Security, Culture & Legal Affairs Section of Delhi based Swiss Embassy were also present.
At the last, Deputy Speaker expresses his gratitude to the Members of both the Parliament.
On 2nd April, 2017, Swiss delegation had an audience with His Eminence Karmapa in New Delhi.