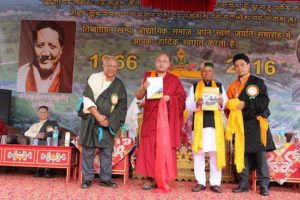 BIR: Speaker Khenpo Sonam Tenphel of the Tibetan Parliament and Kalon Karma Yeshi of the Department of Finance, Central Tibetan Administration, attended the 50th anniversary celebration of Bir Tibetan Handicraft Settlement from 4 – 6 September.
The chief guest at the three-day celebration was Mr Kishori Lal, Member of Legislative Assembly from Baijnath in the Himachal Pradesh Assembly. Other guests at the celebration include Acharya Yeshi Phuntsok, Deputy Speaker of the Tibetan Parliament, members of the standing committee of the Tibetan Parliament and Mr Chime Rigzin, Acting Secretary of Home department.
The celebration began with a brief history of the settlement narrated by Tulku Ogyen Topgyal, former member of Tibetan parliament.
Speaker Khenpo Sonam Tenphel, in his address, expressed gratitude to His Holiness the Dalai Lama for his leadership of the Tibetan people since the brutal Chinese occupation of Tibet in 1949. "When we first came into exile, it is only the sky above and the earth below that are familiar with us. It is solely due to the efforts of His Holiness the Dalai Lama and the elder generation of Tibetans that we have been successful in exile," he said.
"This settlement was established by Pema Gyurmey Rinpoche and former parliamentarian Jargoe Namgyal Dorje, and was inaugurated by His Holiness the Dalai Lama. In the last 50 years, this settlement has contributed positively to the Tibetan movement and I hope it will continue in the years to come as well," he added.
Expressing greetings on behalf of the Kashag, Kalon Karma Yeshi paid rich tributes to the elder generation of the Tibetan people for keeping the traditions and culture of Tibet including Tibetan language alive over the last 50 years.
He further emphasised the importance retaining these rich traditions in the years to come to maintain the distinct Tibetan identity and urged the Tibetan youngsters to participate actively for the same.
Bir Tibetan Settlement was established in the year 1966. The settlement is located in the state of Himachal Pradesh, which is about 60-70 Kms away from Dharamshala. Baijnath and the Jogindernagar are the nearest town to the settlement. The major source of income for the initial settlers was carpet weaving and sweater selling during winter.