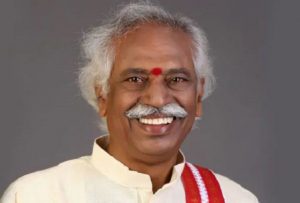 Dharamsala: Speaker Pema Jungney of Tibetan Parliament-in-Exile on behalf of Tibetans in and outside Tibet extends his warmest congratulation to the Governor Bandaru Dattatreya for being sworn in as the 27th Governor of Himachal Pradesh.
In the congratulatory letter, Speaker wrote "We are eternally grateful to the Government and People of India for the unwavering support since China's forceful occupation of our land, Tibet. We are especially grateful to the people and government of Himachal Pradesh for helping us preserve our distinct culture and tradition."
He said, "Your commitment towards working on the education, tourism development and awareness against drug uses is very much appreciated. We hope to see a better Himachal Pradesh under your leadership."
"I extend my prayers and best wishes to you and your party in fulfilling the expectations and aspirations of your people and I positively look forward to your support for the cause of Tibet," he concluded.
Bandaru Dattatreya is a former union minister and senior BJP leader, he took the oath of 27th Governor of Himachal Pradesh on Wednesday.