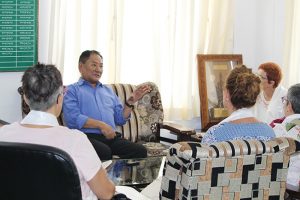 Dharamsala: A women's group from Spain visits Tibetan Parliament-in-Exile on 9th August 2019, through an organization called 'Focusonwomen' based in Spain that works to inspire women/minorities from all over the world to learn about their projects, life stories and visions of their countries and of the world. The organization also supports women and minorities from all cultures by contributing to their empowerment in different ways. Its goal is to draw attention to worldwide culture through traveling.
The members of the group, who were at Dharamsala from 9th August to 11th August, sought their appointment to meet Speaker of Tibetan Parliament-in-Exile before one month as they were very interested to learn the real situation of Tibetans in exile.
Speaker of Tibetan Parliament-in-Exile, Mr. Pema Jungney received them at his chamber. Since they did not had any knowledge of Tibet issue, Speaker explained about the historical background starting from 2nd September 1960, changes in the composition of the members of the Tibetan Parliament and the evolution of Tibetan Democratic polity.
The Speaker also spoke about devolvement of political power by His Holiness the 14th Dalai Lama and the election of Kalon Tripa by the Tibetans in 2011.
He also spoke about the Tibetan Parliament-in-Exile being a unicameral or partyless system, where Tibetan people directly elect the members.
He further talked about Parliamentary sessions, procedure, composition, and function.
He then spoke about the historical background of Tibet being an independent country that was forced to sign the 17-point agreement under duress by the Chinese government in 1951 and subsequently flight of His Holiness the 14th Dalai Lama to India followed by some 80,000 Tibetans in 1959.
He talked about political repression and human rights violations of Tibetans inside Tibet by China. 153 self-immolations of Tibetans inside Tibet to protest against the harsh political policies of China and then he also talked about the Middle Way Policy of Central Tibetan Administration to seek genuine autonomy for Tibetans of all three provinces.
Finally, they visited the parliament hall.