As Parliamentarian Youdon Aukatsang, Parliamentarian Geshe Monlam Tharchin and Parliamentarian Tashi Dhondup continue the Tibet Advocacy in the State of West Bengal, India, the Parliamentarians met with Shri Saugata Roy, Member of Lok Sabha and Member of All-Party Indian Parliamentary Forum for Tibet on 14 August 2023. They presented Shri Saugata Roy with the various important documents regarding the situation inside Tibet. Tibetan Law makers also verbally requested to table the issue of Tibet in the Indian Parliament and support the Tibet cause. He assured his support to the Tibet cause.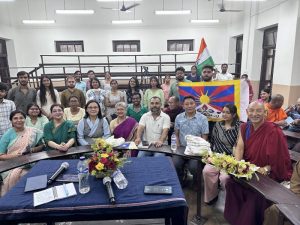 Dr. Joy Deep Sarangi, Principal, New Alipore CollegeIn the evening, the three parliamentarians met with Dr. Joy Deep Sarangi, Principal, New Alipore College at the latter's office. They had an interactive meeting about the ongoing State-wise Tibet Advocacy program and thanked them for organising a talk on the Historical and cultural ties between India and Tibet. During the meeting, Tibet Supporter Ms. Rubey Mukherjee was also present. Parliamentarians presented them with Biography of His Holiness the Dalai Lama and other documents to be kept in the college library for better outreach.
In the afternoon, the parliamentarians delivered talk on Tibet's religion, culture and history. They also spoke on the current situation inside Tibet at the college where about 30 interested students had gathered. The Principal of the College gave the welcome remark and lauded the magnificent deeds that His Holiness the Dalai Lama has accomplished. The Parliamentarians spoke on topics ranging from the objectives of the Tibet Advocacy program, Independent Tibet before 1959, gratefulness of the Tibetans to India, the repression under which Tibetans are still suffering, the significance of Tibet's environment to the geography of Tibet.Dr. Aniket Mahapatra, the professor of Bengali Language and Literature spoke on the relevance of the above talks with the students and concluded the program. The documents of the Tibetan Parliament-in-Exile (TPiE) in the three languages were distributed amongst the gathering.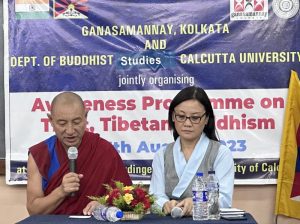 The parliamentarians on the 77th Independence Day of India i.e. 15th August, 2023 visited the Museum of Shri Rabindranath Tagore and took initiative of distributing the documents of the TPiE in the general public around the main market.
Department of Buddhist Studies, University of Calcutta and Ganasamannay organisation jointly organised an Awareness program on the Tibetan issue. Around  40 students gathered and began the program with National anthem of India and Tibet. Dr. Ujjwal Kumar delivered the opening remarks. The parliamentarians addressed the gathering respectively highlighting the objective of the State-wise Tibet Advocacy Program, History of Tibet, relationship between India and Tibet, the Tibetan monastic institute's preservation and promotion of the Ancient Indian Tradition and the situation inside Tibet. The gathering was followed by a Question and Answer session. The parliamentarians thanked the Department head Dr. Ujjwal Kumar, Dr. Aiswarya Biswas and Dr. Piyali Chakraborty and presented the documents of TPiE.
TPiE outreach to the Indian universities is funded by USAID and NDI.