Dharamsala: As per the designated schedule of Tibetan settlements official visitation by the 16th Tibetan Parliament in Exile, member of the 16th Tibetan Parliament-in-Exile, Mr. Tenzin Jamyang's official visit to the Tibetan settlements in Himachal Pradesh., viz., Mandi, Tashiling Pondoh, Tso Pema(Rewalsar), Sundernagar and Tashi Jong to meet Tibetans living there from 22 July to 27 July 2017 was successfully concluded with departure to his residence on 28 July 2017.
The parliamentarian left from Dehradun on 22 July to Tashi Jong via Dharamsala. He was welcomed there by the settlement's coordinator Mr. Rinchen Palden as was welcomed warmly on his visits to the other settlements as well.
From 24 July 2017, with the procession of the parliamentarian's scheduled program, at Tashijong, he visited Pal Phunstokling monastery, Khangar Druk Dharmakara college, primary school and clinic while at Tso Pema/Rewalsar, he visited the monasteries, the community library as well as the Tibetan residences in Mandi and Sundernagar. During those visits, he met with monks, nun and lay residential and intimated himself with the issues concerning their welfare and grievances.
In particular, this visit enabled him to meet with the Indian dignitaries of Mandi such as Smt. Neelam Sharma, President, Mandi Municipal Council, Shri. Vishal Thakur, Vice President, Mandi Municipal Council, Shri. Pushpa Raj, member of the Indo-Tibet Friendship Association as well as the district's Superintendent of Police (SP) Shri. Ashok Kumar (IPS), Shri Kulbushan Verma, Additional Superintendent of Police (ASP) and Shri. Hitesh Lakhan Pal, Deputy Superintendent of Police (DSP), to whom he expressed his gratitude for all the support and solicited for the continuance of such support in the future as well. He also apprised them of the Tibetan Parliament-in-exile and the critical situations inside Tibet.
During this visitation program, he addressed the Tibetan public four times while also engaging in discussions and question-answer session. He addressed the public on the achievements of His Holiness the Dali Lama, the critical situations inside Tibet, Tibet's issues and its relative international political scenario and the program of the 3rd session of the 16th Tibetan Parliamentary.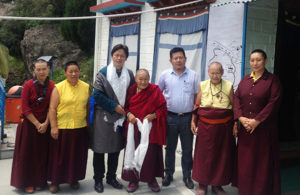 This itinerary of 6 days concluded successfully with the comprehensive inquiry about the conditions of the destitute and recording of the grievances related to the general public, schools and monasteries.
The grievances as per chronicled by parliamentarian Mr. Tenzin Jamyang will be forwarded to the concerned departments of the Central Tibetan Administration under the Cabinet for effective grievances redressal through the standing committee of Tibetan Parliament-in-Exile.