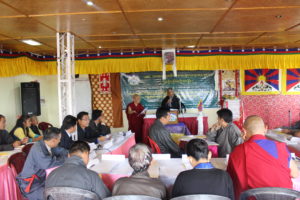 SHILLONG:  As one entered the conference hall, where the workshop for the members of local Tibetan assembly is being held, a palpable sense of anxiety and excitement could be felt. All the participants could be seen preparing themselves as they took their respective seats for the mock session.
In par with preparation the day before, the mock session started off with the session initiation by the Speaker of the assembly. The respective speakers and the members of the Local Tibetan Assembly from Shillong, Miao, Tezu, Tenzingang and Tuting took their turn as the Speaker for the mock assembly. Starred questions and other related questions were answered by the concerned Settlement Officers and rules amendments were done on the basis of majority consent.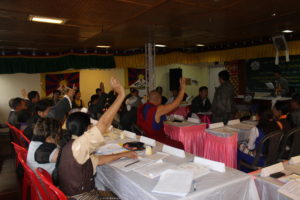 As the mock session proceeded, a recess after each scheduled program was taken by the workshop's speaker Acharya Yeshi Phuntsok and Geshe Monlam Tharchin to counsel and point out the mistakes committed by the participants in the mock session.
The speakers of the workshop, Acharya Yeshi Phuntsok and Geshe Monlam Tharchin also actively participated in mock session as the members of the local assembly.
By the end of the last day, a significant improvement from the basic etiquette of physiological posture to the articulation and diction of speech by the participants while conducting the mock session were noticed. It looked as though the proceeding for an actual session was being conducted.
The age of the participants ranged from 70 to 25 years old. It is indeed an encouraging sight to see the younger generations take active participations in their community's welfare activities.
This first workshop to the members of the Local Tibetan Assembly conducted by the Tibetan Parliament in Exile on "Strengthening of the Democracy at Grassroot Level", was, thus, successfully concluded.