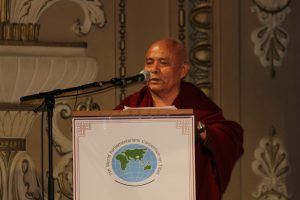 Deputy Speaker Acharya Yeshi Phunstok
Riga: The 7th World Parliamentarians' Convention on Tibet adopted Riga Declaration and Riga Action Plan on the fourth day of the Convention, following that the closing session was held.
In the closing session on 10 May 2019, Chief Guest Hon. Andrius Navickas, Member of Parliament, Lithuania addressed the session and lauded the convention's success.
Deputy Speaker Acharya Yeshi Phuntsok, on behalf of Tibetan Parliament-in-Exile expressed sincere gratitude to His Holiness the 14th Dalai Lama for blessing the last 6 WPCTs and also for the video message as well as blessing this 7th WPCT.
He thank the cross-party Group on Tibet at the Latvian Parliamentary Support for co-hosting the 7th WPCT and the members of the Organizing Committee for their hours of hard work looking into every aspect of the Convention making our visit fruitful and comfortable.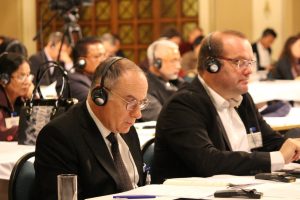 He also thanked the delegates- the honourable members of Parliaments from different countries for taking out time from their busy schedules and also sharing experiences and giving valuable suggestions and distinguished speakers and panelist for enriching the convention, enlightening on the China-Tibet History, Asia and specially, India's role in Tibet's issue, Tibetan Plateau and its current environmental situation, status of US policy on Tibet, on initiatives that Parliamentarians can take on Tibet on international stage and Policies of European Union on Tibet.
Deputy Speaker further thanked the cabinet of Central Tibetan Administration, Department of Information and International Relations, TPiE Member and staff, the International Campaign for Tibet, Europe and the Representatives of His Holiness the Dalai Lama from the Offices of Tibet for their hard work and collaboration with Members of Parliament.
Speaker and Deputy Speaker along with the Tibetan Parliamentarians
He expressed gratitude to Mr. Janis Martins Skuja for his endeavor and hard works to make the convention successful and to the people and the government of Latvia for their support and kind sympathy.
Finally, thanked the Chairs and the members of the drafting committees for their commendable work in such a short period of time and requested all the Members of Parliaments, Offices of Tibet and Tibet Support Groups to continue their good work and carry forward the declaration and the Action Plan of the 7th World Parliamentarians' Convention on Tibet, Riga, Latvia.