Source from www.tibet.net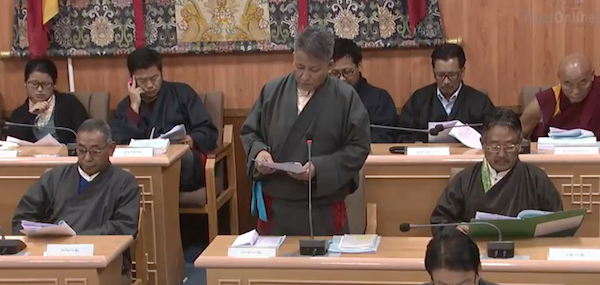 Dharamshala: On the fifth day of the third session of the 16th Tibetan parliament, The Tibetan Electoral Review Committee chaired by Kalon Karma Yeshi of Department of Finance proposed a series of recommendations for amendments to be incorporated into the Tibetan electoral rules and regulations.
The committee put forward a set of amendments to over 29 articles in the Tibetan Electoral rules and regulations; 155-point suggestions related to the Tibetan electoral rules and regulations; 73 regarding Tibetan charter.
In response to the report, Sikyong Dr Lobsang Sangay called for a debate on the prospects and benefits of a single general election contrary to the two-step election process of preliminary and the final round as has been the precedent till date.
The recommendations–at the midst of its deliberations–are expected to culminate in new governing legislation for the Tibetan electoral process.
The parliamentary resolution to initiate reforms in the Tibetan electoral process was proposed by Sikyong Dr Lobsang Sangay and Kalon Ven Karma Gelek Yuthok during the 1st session of the 16th Tibetan Parliament in June 2016. That resolution was unanimously passed by the parliament, keeping in view of the strong opinions and suggestions raised from the public regarding unfortunate developments at the last election campaign.
As mandated by the Tibetan parliamentary resolution no 2016/16/1/5 (9) of the 1st session of the 16th Tibetan parliament, Speaker and Deputy Speaker of the Tibetan Parliament appointed the members of the committee which includes: Kalon Mr Karma Yeshi, Election Commissioner Mr Sonam Choephel Shosur, Tibetan Parliamentarians Mr Pema Jungney, Ven Monlam Tharchin and Mr Gyarik Thar.
Since its commission on 14 June 2016, the committee has gathered scores of suggestions and views from Tibetan people across the spectrum.