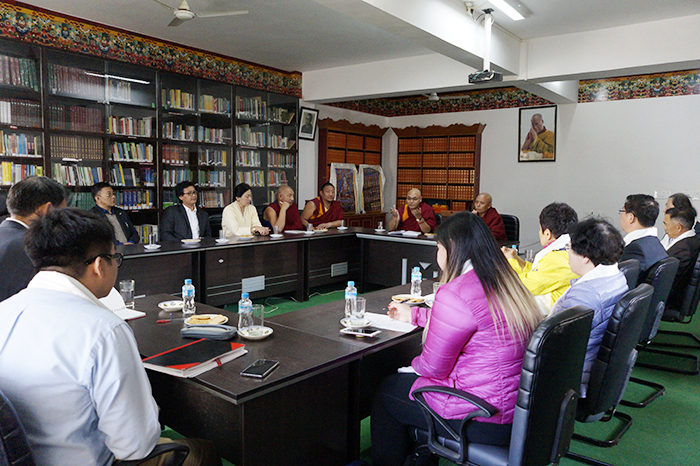 Dharamsala : Coordinated by Office of Tibet, Australia, eight Chinese friends of Tibet, residing in Australia and Hong Kong visited Tibetan Parliament in exile with the aforementioned office's Chinese Liaison Office, former parliamentarian Mr. Kelsang Gyaltsen Bawa at 9:30 am today.
Upon their arrival, they were accorded with warm reception as Speaker Ven. Khenpo Sonam Tenphel and Deputy Speaker Ven. Acharya Yeshi Phunstok, Tibetan Parliament in exile greeted them with traditional Tibetan scarves and were taken to the Library cum Conference Hall of Tibetan Parliamentary Secretariat, where the members of Standing Committee also greeted them.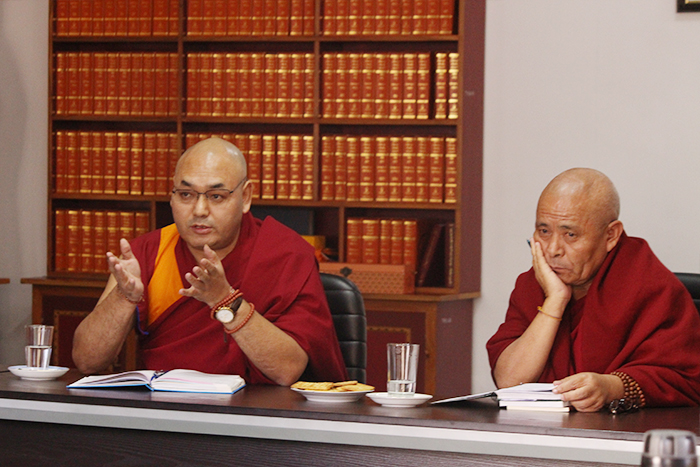 Speaker Ven.Khenpo Sonam Tenphel introduced the members of Standing Committee and thereafter, briefed them on the evolution and development of Tibetan democracy in exile. He also spoke on the composition and proceeding of the Tibetan parliamentary sessions as well as the functions of Tibetan parliament, highlighting in particular, the Tibetan settlement visitation/assessment program and delegatory program to various countries outside India to meet world leaders, politicians, think-tanks etc. He also elucidated them on the urgent situation inside Tibet and Tibet's environmental issues.
Thereafter, the members engaged in discussions as the members of Standing Committee asked question and sought suggestions regrading their government policies and approaches.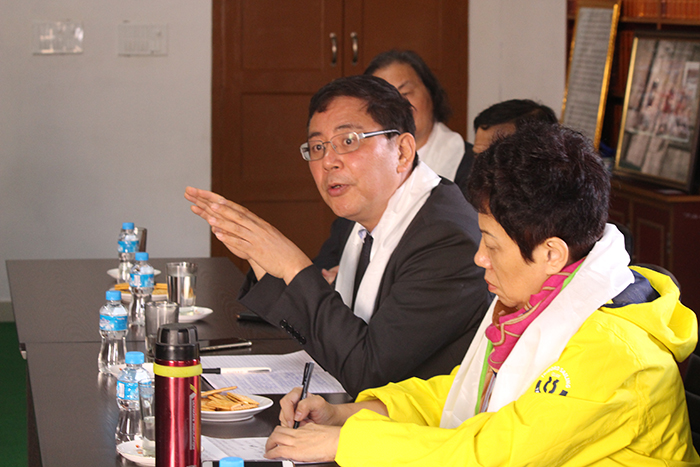 The members of Chinese Tibet supporters expressed their pleasure at being able to visit various departments of Tibetan administration and cultural centers and said they were encouraged by what they had observed. They further added that this visit was in particular very meaningful and encouraging for them, for till now they had been informed of Tibetan movement in exile only via media and other in-direct mediums. Expressing the hope for future joint activities in pursuance of Tibetan cause and striving for democracy in China between the two, they also hoped for the continuation of this friendship in future too. They added that, in particular with the policy of despotism in China, though self-interested people rarely criticize the wrongs of their government, Chinese, residing outside China, who are striving for democracy and support truth continue to raise voices against the wrongs of Communist China and its policies.
Thereafter, Deputy Speaker Ven. Acharya Yeshi Phuntsok informed the Chinese visitors on the numbers of visitors, both official and unofficial, to the Tibetan Parliament, saying, 'We get more than 200 unofficial visitors here and today alone, we had three official visitors. Not only are you all here officially but the fact that we can comprehend and discuss each other in our own language brings me immense joy.'
He continued by stating that the success of Tibetan democracy and its systematic administration in exile is owed to the graces and blessings of His Holiness the Dalai Lama, who has aspired to democratize Tibetan governance in 1952, 1958 in Tibet and subsequently in 1960 in exile, when His Holiness presented 'democracy' to the Tibetan people. He added that whenever delegations from other countries visit Tibetan parliament and observe the ongoing sessions, they had always commended it by referring to its as 'peace-house' as well as the electoral system, with each and every Tibetans having the right to vote for their own representatives. Many political scientist commended the Tibetan system of administration by often calling it as the standard democratic system.
He also spoke on the situation inside Tibet by highlighting the self-immolation by Tibetans inside Tibet, from youth as young as 15 years old, who has never seen Mao and other Chinese leaders yet still struggles for the just cause of Tibet.
He concluded by saying, "I hope, just as you all do, for us to work together towards the resolution of Tibetan cause and a democratic China and continuation this friendship henceforth. I am very heartened and encouraged to see you all come here with courage, sans any hesitation of your government's pressure or repercussion. "
Mr. Kelsang Gyaltsen Bawa interpreted the whole dialogue between the members of Tibetan parliamentary members and the Chinese Tibet supporters.