Dharamsala: Deputy Speaker of Tibetan Parliament-in-Exile, Acharya Yeshi Phuntsok and standing committee members Parliamentarian Geshe Atuk Tseten, Parliamentarian Ngawang Tharpa Gewatsang and Parliamentarian Karma Gelek attended the opening ceremony of 7th Tibetan General Conference on Education on 23 February 2019.
Deputy Speaker lauded kindness of Indian government, specially former Prime Minister Shri Jawaharlal Nehru and former Education Ministers for supporting to establish an education system based on His Holiness the Dalai Lama's vision.
He expressed gratitude to former education minister, Shri M.C. Chagla , other politician and Tibet supporter Shri Jayaprakesh Narayan, former Chairman of Central Tibetan Relief Committee and Indian politician, Shri Acharya J.B Kirpalani and former Kalons of Central Tibetan Administration.
He also conveyed a recent proclamation of His Holiness the Dalai Lama from Chotrul Monlam Chenmo about his appreciation towards the former public servants and advice for the present public servants of Central Tibetan Administration to strive for the bigger cause of Tibet.
He remembered Tibetan scholars inside Tibet like 10th Panchen Lama, Dhunkar Lobsang Thinley,Tseten Shabdung, Mugey Samten , Khenrab Woeser and Khentse Tsenam Rinpoche, who risked their life and fought against the harsh Chinese regime to save and protect Tibetan culture.
At the same time, suggested the attendees of the conference to discuss freely and emphasized on implementing the agendas after the conference.
He explained article 17 of chapter 3 from Charter of Tibetans-in-Exile regarding education and assured full support from Tibetan Parliament-in-Exile concerning education of Tibetan children. Finally, Deputy Speaker advised the attendees to spend maximum time of the conference on discussion.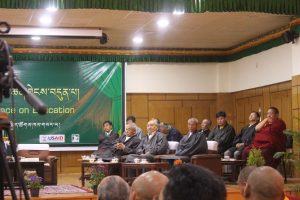 Standing committee members at the opening ceremony of 7th Tibetan General Conference on Education