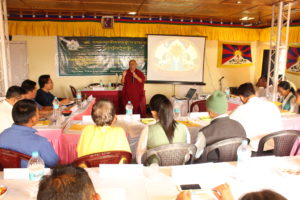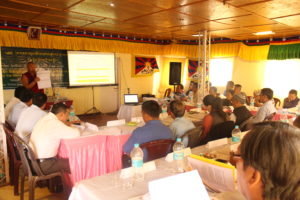 Shillong: The workshop on the "Strengthening of Democracy at grass root level to the members of Local Tibetan Assembly" proceeded as per the scheduled program at Shillong.
Speaker Geshe Monlam Tharchin elucidated the participants on the rules and regulations of Central Tibetan Administration's Revenue Collection, Annual Budget system on the second day of the workshop.
On the third day, Speaker Acharya Yeshi Phunstok expounded on the general etiquette to be observed while in an assembly session and explained in details the roles and structure of the governing bodies of the Central Tibetan Administration along with the autonomous bodies.
The undivided attentions of the participants were made apparent when they started posing numerous questions to absolve their uncertainty and confusions.
The day ended with the preparation for the next day's mock session by assigning the participants from Shillong, Miao, Tezu, Tuting and Tenzingang into respective committee for Starred Questions, Agenda and Resolutions, Rules Amendment, Budget Estimations, Annual Report etc.