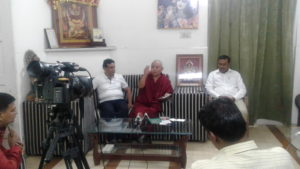 LUCKNOW: Honorable Deputy Speaker Acharya Yeshi Phuntsok of Tibetan Parliament-in-Exile, Successfully wrapped up his official visit to Lucknow, UP on 9 June.
Deputy Speaker attended a press conference on the situation of Tibet and Tibetans organized at the residence of Ms. Kusum Rai, former Rajya Sabha member of Indian Parliament on 6 June. At the press conference, Deputy Speaker spoke about the past history of Tibet, the current situation of Tibet covering both inside and in exile, especially the historical relation between Tibet and India have in the past.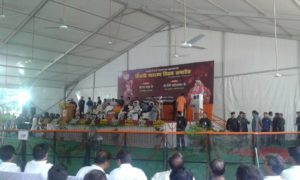 On 7 June, Deputy Speaker attended Hindavi Swaraj Diwas 2017 program at Lucknow University as a special guest.
The Program was also graced by the Honorable Chief Minister of Uttar Pradesh Shri.Yogi Aditya Nath and, along with the Governor of UP Shri.Ram Naik, Indian Lok Sabha member, and Tibet supporter Shri.Bhagat Singh Koshyari, Vice Chancellor of the Lucknow University, professors and students, and Intellectuals around two thousand people have attended the program.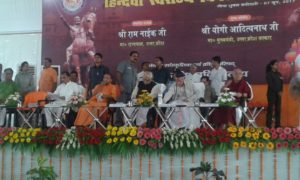 At the program, Deputy Speaker greeted the Chief Guest and other dignitaries who have attended the program and spoke on the idea and vision of Shivaji Maharaj during the freedom movement and Tibet movement. Other Speakers spoke about how China jeopardized its neighboring countries and importance of Tibet issues for them.
Deputy speaker also attended the UP Tibet supports groups meeting on 8 June. At the meeting, he thanked them for their continuous support for the cause of Tibet and expounded the condition of Tibet and the deep relation between India and Tibet have in the past history.