DHARAMSHALA: Deputy Speaker of Tibetan Parliament in Exile Acharya Yeshi Phuntsok yesterday launched a book of  interviews  with exiled Tibetan women writers and their works titled "Women who hold the book" at the Tibet Post International office in Mcleod Ganj.
The book comprises the interviews of 33 exiled Tibetan women writers across the world, which included 15 published authors and other enthusiastic readers of Tibetan language.
The book launch event started with a brief introduction of the book by Chonyi Sangpo, Editor of the book. He said that the book contains the interviews of exiled Tibetan women writers from various parts of the world with different interest in writing; hence it enables the readers to enjoy the both traditional and modern styles of Tibetan writing from their responses to the interview questions.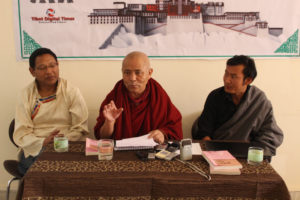 Deputy Speaker Acharya Yeshi Phuntsok acknowledged the efforts of the Editor and the Tibet Post International for being able to publish the book in right time in his address and said, "It is very important to meet the purpose of the publication of any books and its relevance in the future. So I hope this book will meet its intended target and will serve as a reference book in the future."
He also cited about the Red Shadow over the Himalayas book authored by Shri.Shanta Kumar ji ,Coordinator of All Party Indian Parliamentary Forum for Tibet and said " The book was first published in 1965 and it was republished in 2016 as it met its intended target and has still relevance today, like wise we also need to publish books which will met the target and have relevance in the future."
Deputy Speaker also shared the experiences of guest attendance at various official functions and specifically the Indian book releasing and panel discussion events at the book launch.