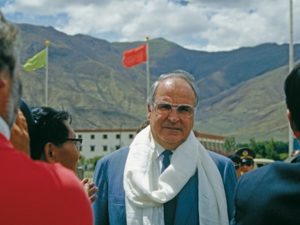 DHARAMSALA: Acharya Yeshi Phuntsok,Deputy Speaker of Tibetan Parliament-in-Exile has expressed deep condolences to the family of formal German Chancellor Mr. Helmut Kohl.
"I, on behalf of Tibetan Parliament-in-Exile would like convey our deepest condolence to you and your whole family at the sad demise of your husband. Mr. Helmut Josef Michael Kohl contributed his colossal vision of collaboration to the unification of Germany and the formation of European Union."
"Since the people of Tibetan are being dispersed across the world for nearly six decades, we too believe in the unification of entire Tibetan in Tibet.
"As we comprehend this profound loss, we shall not forget what he has done to bring peace in the world. We should carry forward his visions of amalgamation and cooperation in the days to come.
We will feel his absence and will remember him in our prayers. May god gives you a strength to bear this irreparable loss,"Deputy Speaker wrote.